Music / Premieres
Track by Track:
LVIV - LVIV
Bookending their rapid first six months of existence, our favourite judy-punks LVIV have dropped their debut self-titled EP today - it's a fiery collection of turbulent garage-punk, and to celebrate the release, we had the band give us a little more insight into each of the tracks.
The last time we spoke with LVIV was back in July as they dropped their debut single 'Young Libs', which we described as a "striking introduction to the new project." Now with their first full release on us, they've revealed they can be just as acute as they are irate, but pretty fun while they're at it, too.

Kicking off with 'Dogs', we're immediately struck by the band's urgency - opening with a murky sprawl of guitar and bass, the track rockets off with a pummelling beat while guitarist/vocalist Darcy Kinna snarls fervently over the top. 'Young Libs' follows on and takes the nervous energy up an extra notch, this time with Elsie Lange's warped synth taking on a pivotal role as the band race along.

'Time' finds Yura Iwama taking the limelight with her sharp yelp, as garage chords splutter and the band ride a sludgy groove, before 'Trickle' brings on the EP's most volatile moment, built with layers of angular guitar hooks, spasming synth and a wall of menacing vocals. Finally we're hit with the ferocious 'Sniper', one final blast of aggravated garage-punk that revolves around a striking melody-less hook, as the instrumentation lurches and careens before erupting into a flurry of controlled chaos to call things quits.

To find out a little more, we had LVIV talk us through each of tracks on the new EP.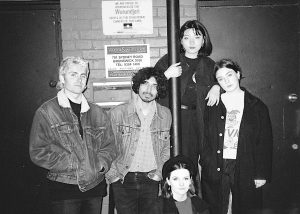 Dogs

Someone told me they thought it was about a broken relationship. It's meant to be a criticism of corporate environmentalism, but whatever ya reckon.

Young Libs

I think I've told you about this one before. Just a song about how much I despise those young libs.

Time

Yura was listening to 'Stoned and Starving' by Parquet Courts while walking down her street, feeling exactly that - then decided she was going to rip the song off.

Trickle

We are all big Bernie Sanders fans, so the lyrics are a tongue in cheek ode to his desire to raise the US minimum wage, and an embellishment to his everlasting "the top one percent now owns almost as much wealth as the bottom 90 percent" quote. We really only finished writing this song the day of recording, so it was incredibly rushed and frantic, however we were thrilled with the distorted and mashed result.

Sniper

An incredibly simplified breakdown of how narcissists inflict a great deal of pain on those they place close to them. Our sweet friend Craig graciously performed the monologue Emma wrote at the end on the song.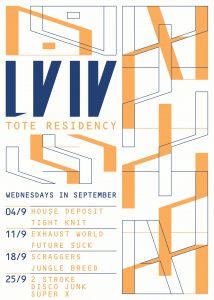 Have a listen to
LVIV
above, and head to
rooletterecords.com
to purchase the new EP on limited cassette. LVIV are currently in the midst of a Wednesday night residency at The Tote front bar, and are launching the EP at tonight's show with Exhaust World and Future Suck.