Music / Premieres
Premiere:
Paper Tapir - Art School
We're stoked to premiere the new single from alt-rock trio Paper Tapir - 'Art School' is a blast of angsty fuzz-pop, that hits hard with its raw emotion and contagious energy.
Off the back of their debut EP Supercraig, Paper Tapir are back with 'Art School', another high-octane cut of their sprawling indie rock. Considering their debut EP only dropped this July, it's an exciting new taste of a band unwilling to rest on their laurels.

Following a muted guitar intro, 'Art School' quickly bursts open with a swirl of rich chords and restless grooves, as vocalist/guitarist Lou Smith takes the reins with his raw vocals. The track immediately becomes anchored by the emotion in Lou's melodies, while the band ebb and flow alongside - briefly showing moments of restraint, just to erupt into a flurry of noise as the energy overflows. Besides a few endearing la-las here and there, the track sees Lou toying with ideas about university life, and while his lyrics feel sardonic, he doesn't quite give his position away completely. That is, until the track hits a climactic outro, Paper Tapir sounding more explosive than ever, and they collectively roar "I can't wait to get the fuck outta here." It's not exactly poetic, but it's definitely powerful.

Speaking about the track, Lou shares "'Art School' essentially came about through a few leftover riffs being mooshed together and forced into some kind of structure. As the music went in this direction, I wanted the lyrics to have bold repetitive verses that amount to nothing, except for an instrumental chorus and inane las. The content of the lyrics was pretty easy to write as we are confronted with these stereotypes at uni every day. We also just wanted to write an angsty song."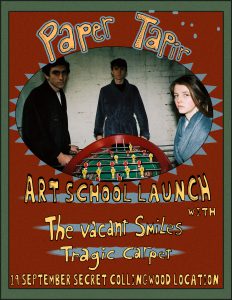 Have a listen to 'Art School' above, and catch Paper Tapir launching the single next Thursday, September 19th, at a secret location in Collingwood.