Music / Premieres
Video Premiere:
Pollyman - Japanese Rock and Roll
Thanks to our friends at
Bonsai Records
, today we've got the pleasure of premiering the debut single and clip from Pollyman - 'Japanese Rock and Roll' is a blast of gloriously retro power-pop that instantly sucks us into Pollyman's brightly coloured world.
Recognisable as the maniac behind the drums in Tiny Giants, or the handyman bringing heaps of onstage energy to a Bones and Jones show, George Wilson's project Pollyman finally sees the charismatic musician taking the spotlight. After performing around Melbourne and the coast steadily for a number of years, the project has since morphed into a three-piece band, and now with the release of their debut single, it only seems like bigger things are on the way.

Opening up coolly with a twangy guitar intro that shows off George's idiosyncratic style of playing, 'Japanese Rock and Roll' quickly unfolds and picks up a bouncing groove. Loaded with swagger and a heap of playful energy, the track pushes forwards, yet we're held captivated by George's hearty vocals as he weaves a relentless melody over the twisting instrumentation. As the track winds on past each snappy guitar break and crafty vocal hook, Pollyman masterfully reference their classic rock influences while still sounding refreshingly local - almost as if we're hearing what Marc Bolan might've sounded like had he grown up on the surf coast.

The clip, created by Willem Kingma, leans into the band's obvious glam rock reference points and places George centre-stage, making him appear larger than life with a face full of makeup and a striking backdrop that's perfectly coordinated with his attire. Without giving too much away about the track itself, the clip perfectly showcases George's enigmatic showmanship, as he stares down the camera while pulling as many rock moves as possible - just a slight taste of what to expect from a Pollyman live show.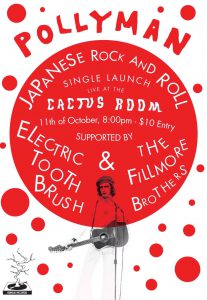 Check out the new clip for 'Japanese Rock and Roll' above, and catch Pollyman launching the single on Friday, October 11th, at the Cactus Room.