Music / Features
Track by Track:
Peach Body - Peach Body
Off the back of the release of his self-titled EP in August, we caught up with bedroom producer Peach Body to find out a little more about the lo-fi electronica of his debut release.
After introducing the project to the world in mid 2018, the last 12 months has found Mitchell Wood hard at work building and tinkering with beats in his bedroom studio, and following a handful of well-received singles, his debut EP emerged as a carefully composed introduction to the new project. Also recognisable as one half of Leisure Suite, Peach Body finds Mitch exploring more experimental terrain - he describes himself as a "musician working in edges, pops and clicks", and the new EP highlights his uncanny knack for embracing imperfect sounds to develop illusively lush soundscapes and groove-heavy sound collages.

Opening with 'Intro', we're immediately struck by the fluidity of Mitch's production skills as an erratic sample wrestles with a steady beat, the tension quickly anchoring the track before seamlessly forming a woozy bed for the new layers of synths to warp and shift over. This willingness to toy with untraditional pop conventions shines throughout the EP, and while the unlikely stitching together of rough-around-the-edges samples and unique vocalists could be jarring, the listen feels completely immersive. From the minimal house beats and emotive vocals of 'Boy in Love' feat. Zellow, to the ethereal, almost whimsical atmosphere of 'Dream' feat. Hyara, and through the hazy R&B grooves of 'Cross My Mind', Peach Body holds us completely captivated, the chilled-out vibes transporting us elsewhere as we're continually served thoughtful hooks layered in charm and poignancy.

To learn a little more about the new EP, we had Mitch walk us through each of the moments on Peach Body.
Mitchell Wood: I began writing music for the Peach Body EP in 2017 during a hard period of time dealing with an autoimmune condition which had progressively been getting worse and worse. It was a time where I was dealing with a lot of physical pain, bad thoughts and was limited to what I could really do. I didn't have much around me to record other than the tools in my bedroom, so I spent quite a bit of time locked away just making beats, not thinking about ever releasing them. 

A big reason this turned out to be a big collaborative project was upon opening up about pain and illness, I began to realise that a lot of people are dealing with some pain - whether it be physical, emotional, heartbreak, you know - life. I chose to share the beats with a couple of friends and through their own expressions of experience it became something completely new.

I never wanted the project to be about debilitation and seclusion. I wanted it to be about sharing experiences, triumphing over hardship and using it as a learning tool to further grow and move forward.


Intro



One of the first Peach B songs I had ever written. The beat was sort of inspired by a friend of mine who would always hop on the drum kit during rehearsals and play the only thing they knew – the rhythm from The Temper Traps 'Sweet Disposition'. When I'm feeling really uninspired and I've hit that wall - I start with that beat, write around it and change it later – however, this time it just kinda stuck. I had a few different intros demoed for the EP - however, they all felt too beaty and didn't reflect some of the other tracks I had written. I originally thought it was too rough for the EP, but I liked the organic feel to it and I knew I had to stick with it.



Boy in Love Ft. Zellow



'Boy in Love' was always going to be single no.1 from real early writing days. It had always had a super sweet spot in my heart. I actually created all of the pad sounds and melodies using this old keyboard that was going to be tossed out by my old highschool back in the day. You know one of those keyboards with the real corny big band sounds and drum kit samples. I just took all the sounds, cut them up and smooshed it all together.

The track was aided of course by my friend Wilhelmina who wrote the vocals for me! Wil is one of the most creative people I know and I'm so happy they were able to lend their voice to the track. The lyrics behind 'Boy in Love' came from me mishearing a lyric - Wil then reverse engineered the vocals around that alone and it was so cool to watch it all come together.

Interludes 1 & 2

I thought I'd lump these together –
So, recently in my other project Leisure Suite, Bridgette and I had been playing with the idea of not letting songs go on any more than they needed to (in the past, we had written a bunch of songs that were double chorus, double verse. A real pop ballad style of writing). With our new music, when we thought a song had run its course - we ended it. I sort of like things that make you want more, these tracks are sort of in that vein - short sweet bits that I thought sounded cooool that tie the EP together without overshadowing the singles. 

Overstep Ft. Aphir



This was a track I was stuck on for so long without getting anywhere. I knew I liked the beat, and I knew I liked the song - but I was struggling to find a voice that I thought would suit it. I was driving home one night from work or from somewhere, I don't know, and one of Becki's (aphir) songs came on the radio. It was such a lightbulb moment - I'm pretty sure I ran inside and emailed her right away. Becki also helped me out mixing and mastering the EP (sans one track) and is always such a constant inspiration to me.

Dream Ft. Hyara



This was an incredible track to work on. I sent the instrumental to my friend Hyara in the UK and the track was completed within a day. It was one of the most impressive things I had ever seen. It was also a little absurd to me, as at that same time I was writing another track with a friend who had a studio within a five min walk, but could never get things together - whilst this person on the other side of the world was able to write something and send it back within a day. This is a track inspired by honeymoon days of a relationship and new love.

Cross My Mind Ft. Zion Garcia


I have the Thank Guard crew to thank for sending me Zion's work. I reached out to him after having a listen through his soundcloud. Zion's music has such a maturity and deep timbre to it and I knew from the first couple of listens that I wanted to write something together. This began as such a small loop - like less than a minute. It was such a rough unready piece of work. I remember getting an email at like 2am from Zion - he couldn't sleep - he had sent me a demo he recorded on top of the loop. The recording blew my mind and I stayed up another couple of hours just working on it. I think I finished the full instrumental that night, with the rest of the track being finished within the week.

Better Ft. Sam Phay & Yaw.



I think this was the last PB song written for the release. It was a lil late in the game and I considered leaving it off the release. It was another song made using cut up bits and pieces. It was a headache to get it all together but when I did, I knew I wanted it on the release.

I came across Sam's work through their manager who had reached out to me to play a show - I went back through his work and knew that he'd be a great fit. We originally recorded a version of the track with only Sam, however listening back we found the pacing to be a bit off. I had been in contact with Yaw., another friend of mine, who I'd been waiting to put on something and the pieces just aligned. We pieced it all together and the track just fell into place. This is probably my favourite song on the EP.

End

Another very early Peach B song, which is funny considering it's the outro track. This track was definitely inspired by some artists I used to listen to when I was first getting into making electronic music years ago. Artists such as I'lls and Seekae & Lone. I feel like in a strange way the intro track and this are very similar. I'm not sure if I can put my finger on why… maybe it's the tones or the arrangement, but I thought it was a good way to encapsulate everything together in a nice lil package.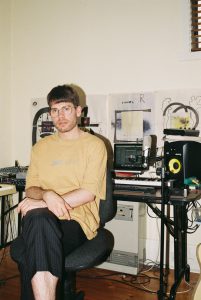 Have a listen to Peach Body above, and keep an eye on Peach Body as they gear up for their next move.