Music / Premieres
Track by Track:
Bluey - Bluey
To celebrate the release of his debut EP today, Lachie Gilmour, the mastermind behind Bluey, has invited us inside his world of immersive bedroom-pop and walked us through it track by track.
Recognisable as one half of IV League, Lachie Gilmour has spent the last five years crafting indie-rock gems - however, it's only until now that he's completely stepped out on his own. Backed by the captivating production skills of Michael Vince Moin (of Tram Cops), his debut EP finds him flittering between warbly folk-pop and neo-psychedelia, a thrilling glimpse into the mind of the versatile songwriter.

Bluey opens with the introspective 'No Plans', a woozy introduction that begins like an indie-folk song, but quickly ventures elsewhere as layers of otherworldly synths materialises around Lachie's sandy vocals and we're treated to a skittering keys solo. Next up is 'That's Life', which picks up a propulsive drive with a nervous backbeat, while Lachie sings intimately into our ear amidst the cycling chords.

The atmosphere shifts with EP highlight 'Morning Sun', which emerges like its namesake with an immersive guitar and carries us into a haze with its hypnotic drum loops, ethereal synths and sleepy melodies, a mood that continues on the understated 'Broken Heart'. Finally, Bluey rounds out with 'Best Friend', which unfolds around Lachie's wide-eyed vocals, with layers of dreamy guitars and flittering synths, sending out the EP on a mesmerising note.

To get the inside scoop on Bluey, we had Lachie pull back the curtain on each of the EP's tracks for us.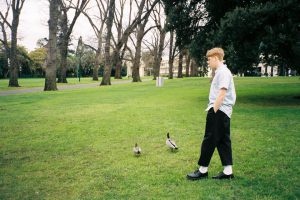 Hello there readers, this here be my debut EP and I hope ya'll enjoy it!

No Plans

'No Plans' is one of the last songs we recorded on the EP and is definitely one of my favourite cuts from it. I wrote it in a state of revelation where I realised that I just needed to kick back a bit and not get caught up in certain expectations of where I think my life should be. Prior to writing this song, I had felt pretty beaten up and disheartened by life in general. It's about the realisation of self worth and the comfort of having someone stick by you through the tough times. Shout out to my wonderful producer Michael Vince Moin (Tram Cops) for the epic piano solo between the bridge and last chorus.

That's Life

I wrote this song in my head early one morning while I was driving to work. I was getting pretty sucked in to the lifestyle of working flat out and feeling like I had nothing to show for it. The song is a reflection on the mundane parts of life that everyone has to do to make a crust. Listen in carefully for a stellar one take wonder performance from Gab Strum (Japanese Wallpaper) on the tambourine during the instrumental section. The title also makes me laugh because of the trashy magazine of the same name… 'Mother of four joins cult after performing exorcism on family cat' but hey… That's Life.

Morning Sun

This tune stemmed from a chord progression I had for a song that didn't eventuate with IV League at some stage last year. The lyrics depict someone lost and trudging through the desert, their clothes are torn up, they're exhausted and they don't know where to go. It's kind of a metaphor for how it can feel sometimes navigating through your early to mid 20's, relatable right? Hehe. Big love to Bella Venutti for letting me use her chorus for this one.

Broken Heart

Last year over the Christmas/new year period, a friend's sibling said some choice words to me that really got under my skin. It wasn't til I picked up the ol' faithful gee-tar a few weeks later that I was able to heal myself, self care amirite?

Best Friend

This was the first song I wrote for this project and was also the first time I felt like I had written something that was authentic to my sense of self. The demo version only had acoustic guitar, vocals and a tambourine keeping time. We built the song up from that demo version adding a drum machine and various synthesisers, which ultimately set the pace for the recording of the EP. I wrote the song from the perspective of someone who has fully put themselves on the line in a friendship only to get it thrown back in their face. It's about coming to terms with the fact that sometimes it's better to take a step back from certain relationships that lack mutual respect.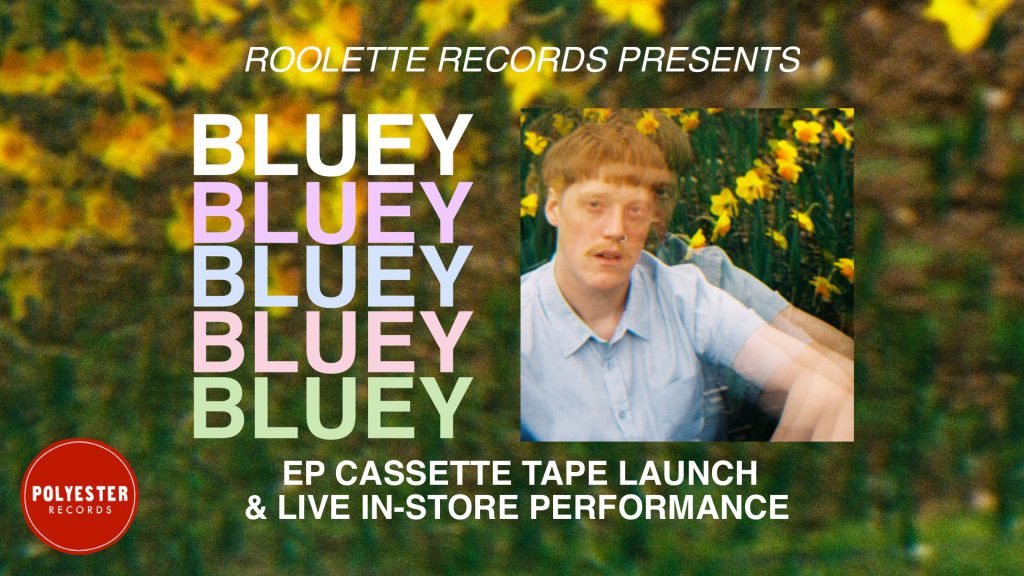 Have a listen to
Bluey
above, and head to
rooletterecords.bandcamp.com/album/bluey
to purchase the new EP on limited blue cassette. Bluey are launching
Bluey
with a live in-store at 6:30pm tonight at Polyester Records in Fitzroy.