Music / Premieres
Premiere:
Nathan Abbey - Judas
We're thrilled to be premiering the debut single from bedroom-psych architect Nathan Abbey - 'Judas' is a swirl of woozy psychedelia and a captivating first taste of his forthcoming album Cross-Eyed.
Having spent the last few years performing around Melbourne in My Elephant Ride and Mihra, 'Judas' finds local multi-instrumentalist Nathan Abbey stepping out on his own for the first time. The new project has Nathan journeying down the rabbit hole into the world of sample-based psychedelia, which is set to culminate with the release of his debut album Cross-Eyed early next month.

Opening with a mash of record crackles and sinister sounds, 'Judas' expands into an entrancing groove as we're hit by waves of effected samples and a pulsing backbeat. The soundscape clears as Nathan's emotive vocals take the spotlight, however, he's soon engulfed by the morphing instrumentation as it rises again, full with otherworldly noises. Despite it being buoyed in real life by a striking sample of Pavarotti singing, 'Judas' is still completely hypnotic, and as the track fades off with the sound of ethereal vocals, it's incredibly easy to feel completely lost in the track.

Speaking about the track, Nathan shares "When I begun making this album I bought a big stack of about 50 classical records from the op shop for about 50 cents each. It was all I listened to for about a month, slowing making my way through chopping up samples. 'Judas' is inspired by Pavarotti's version of 'Core 'ngrato'. If you check it out, you'll hear all the samples and where the melody was inspired from. The passion and conviction of Pavarotti's voice is deeply moving to me - even without understanding Italian, the deep pain and longing cuts deep."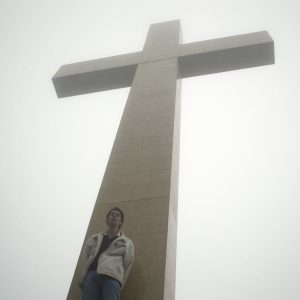 Get lost in 'Judas' above, and keep an eye out for Nathan Abbey's debut album Cross-Eyed, out through Wigwam Records.