Music / Premieres
Video Premiere:
808s & Greatest Hits - Tidal Wave
Ahead of their album launch this Friday, we've got the pleasure of premiering the new film clip from psychedelic space cadets 808s & Greatest Hits - 'Tidal Wave' is a burst of freaky psych-pop and the new clip adds an extra dose of bizarreness to the already-wacky song.
Led by mastermind Skube Burnell, 808s & Greatest Hits have been crafting esoteric psychedelia for the weirdos since 2015. A long time coming, their debut album Cabin Vibes dropped earlier this month, and now they've given us an extra treat with the new clip for album highlight 'Tidal Wave'.

Built with a bed of warble guitar jangles as a steady beat rattles underneath, 'Tidal Wave' quickly picks up a moseying groove that leaves us feeling like we're in an unhurried state of perpetual motion. With Skube's unassuming vocals front and centre, 'Tidal Wave' pushes on, constantly detouring past meandering guitar leads or uncanny bursts of sound, before things eventually erupt into a wall of fuzz to ride the song out.

The new clip, created by Clancy Walker, perfectly matches the track's off-kilter sway with its bizarre storyline and mishmash of styles. Cutting between claymation and live footage over multiple settings, it's a bit of a ride but it'll keep you grinning the whole way. Speaking to Skube about the clip, he shares "the video idea was cooked up by Clancy Walker as he wanted to try out some new ideas. He made a pretty vague storyline about a guy stuck in the past watching old videos of family holidays, recreating a model of the beach from his memories and ends up trashing it because something about it troubles him. The model is alive and he doesn't know so he unknowingly kills the little clay people. The vagueness leaves the viewer able to attribute any backstory they want."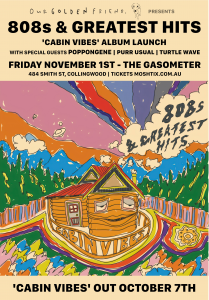 Check out the new clip for 'Tidal Wave' above, and catch 808s & Greatest Hits launching their new album Cabin Vibes this Friday, November 1st, at the Cactus Room.