Music / Premieres
Premiere:
Juno Disco - Juno Disco EP
Jump aboard the shimmering neon-coloured 8-bit wave with Juno Disco's self-titled debut EP, a delicious slice of disco-pop-synth heaven that we're thrilled to be sharing exclusively before the official release this Friday.
When Juno Disco's debut EP came across our desk, we leapt at the opportunity to chuck it into our Nintendo-64. The passion project of synthophiles, Albert Salt and Flamingo Jones, Juno Disco's self-titled EP is the first taste of the duo's gloriously hyperactive synth-pop.

Drawing from house, R&B, pop and vaporwave, each of the five tracks on the EP deliver a slightly different flavour of dancefloor-synth-goodness. Lead track 'Give It/Get It' leans towards the more pop-funk side - like a Client Liaison and Luke Million lovechild. Built on a bed of swirling synths and punctuated by retro percussion and arcade samples, the track could be curated in a daydream. Plus, with a slick bassline and a vocoder breakdown, Juno Disco keep the surprises coming - and it's completely addictive.

Don't miss their playful clip for the track too - if you're lucky you'll spot the duo in there, and hopefully understand our joke from before too.
The rest of the EP flirts between pop and house, delivered with the group's distinctly retro charm. 'Darlin' is the most distinctly outlying soundscape, with its driving synth line reminiscent of 80s bands like New Order and Blondie, whereas 'Disco Voyage' is an undeniable partystarter that pays homage to their house roots.

Moments later, 'Vogue' and 'High Flying' hook us in with their slowburning grooves and woozy keys. More in tow with the lead single, these tracks perhaps offer a insight into where Juno Disco might be heading next.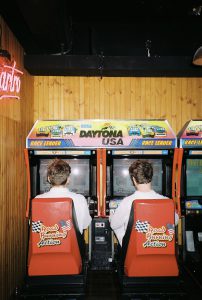 Check out Juno Disco above, and follow the band on Facebook to find out where you can spot them next.