Music / Features
They Made Me Do It -
Talking Influences with Sagamore
One of Melbourne's worst kept secrets, quiet achievers Sagamore have been a sure-thing in the vast music-scape since 2013, thanks to their smooth, layered recordings and accomplished live show. So after the fresh release of their new single 'Man Who Loves You', we're atingle with delight to have the soulful tunesmiths share a few of the tracks that inspired and stimulated them in the writing and recording process with us.
The first time I heard Sagamore was an opening support slot (the other acts escape me) at the Evelyn Hotel in Melbourne on an evening sometime (the exact date escapes me) during the seven-something years they've been on the scene. What I do remember - the five-piece's even-tempered euphony was delivered with such a competent and tranquil bop I was incapacitated. Time stretched honey-thick in the air and half an hour turned to a whole summer. I was filled with false nostalgia of quietly dancing along to Jefferson Airplane and The Byrds before I was born.

I can't remember anything else from that particular gig, but since then, a little bit of Sagamore's soulful guitar pop has been living permanently in my subconscious.

What the cool kids are calling a 'supergroup', the five-piece is compiled of members of other local heavy hitters including Crepes, Dreamin' Wild, Sledgehammer, Swazi Gold and a bunch more. With 'Man Who Loves You', Sagamore reliably combine clever songwriting with unembellished musicality. Catchy dual vocals from singers Sam and Sophia smoothly ride over the track's rhythmic guitar stabs and balearic percussion.

Because we asked nicely, songwriter and lead vocalist Sam has kindly enlightened us with five tracks that inspired the creative vision and process (including the christening) of 'Man Who Loves You'.


Steely Dan - 'Do It Again'
The conga beat of 'Man Who Loves You', which is the Side A of our 7" record, is nearly a straight up rip of the conga beat from this Steely Dan number. I don't think Monty, who is our drummer/percussionist, is a big Steely Dan fan. Nevertheless, Chris, our bass player, is. Chris must have been whispering in Mont's ear when he was laying down the conga track, telling him to do it.


Shocking Blue - 'Venus'
When I came up with the opening chords of 'Man Who Loves You', I was clumsily trying to play the cool diminished kinda chord thing that opens up this banging track. Chris, Soph and I have played 'Venus' at a number of weddings over the last year or two. Weddings are still the only gigs we've actually made money from.


Hailu Mergia & Dahlak Band — 'Embuwa Bey Lamitu'
Soph's organ sound on 'Man Who Loves You' reminded me of Hailu Mergia's organ sound. It also reminded John Lee and his assistant Pat at Phadera studios of that sound. However, each of us was pronouncing his name in a different way. It took us about 20 minutes to realise we were talking about the same guy.


Wilco - 'I'm The Man Who Loves You'
The title of Sagamore's track 'Man Who Loves You' is very similar to the title of this Wilco track. However, I cleverly got rid of the 'I'm the' part.


The Sandals - 'Theme from The Endless Summer'


Some of us grew up near the coast. None of us really live near the coast anymore. Though sometimes Monty does. Monty and Casey like surfing, the rest of us don't really. This hasn't stopped us repping that we are coastal band. You could say it informs the laidback, chilled out vibe of our sound. You could also say that's why Sagamore's music is the perfect soundtrack for summer. Some of these things might be true.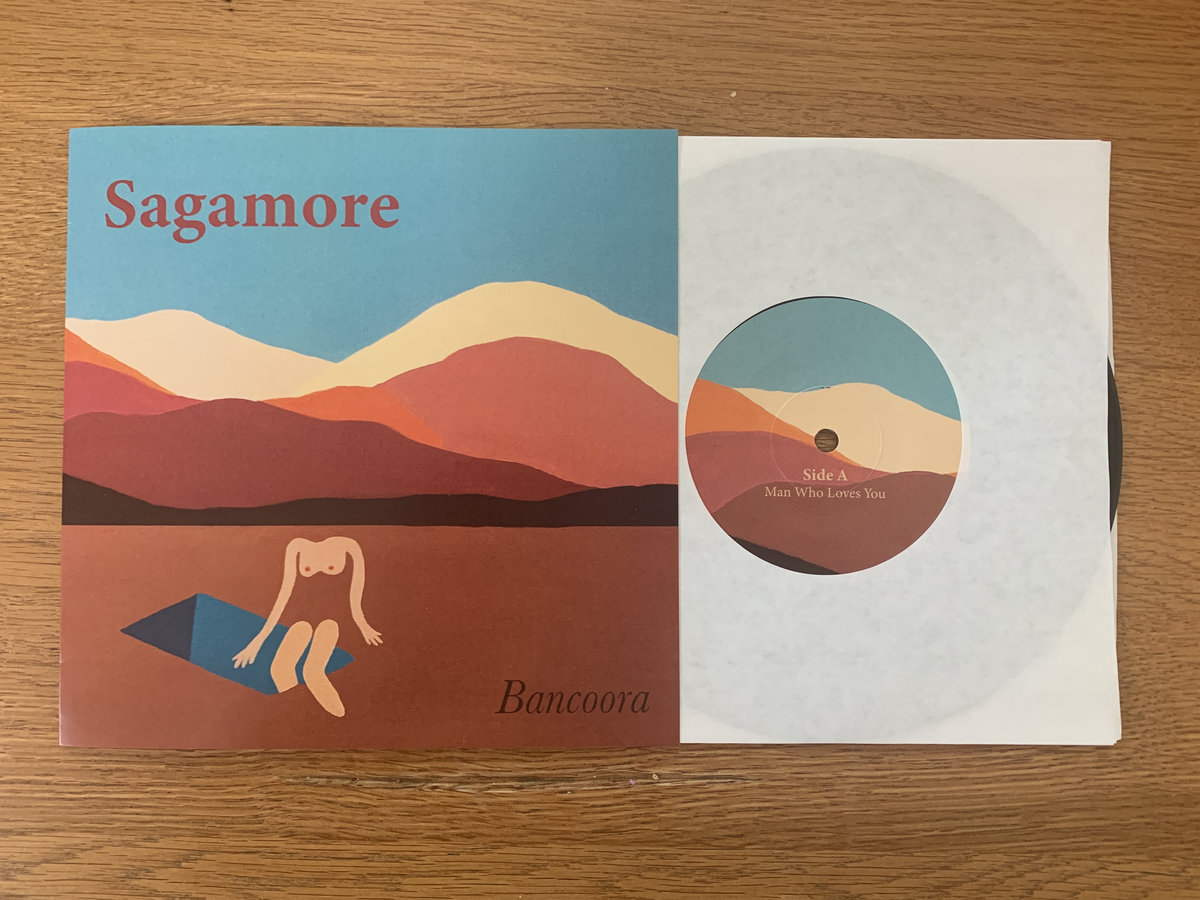 Check out the clip for 'Man Who Loves You' above, and head to
duskytracks.bandcamp.com
to pick up a copy of Sagamore's new 7"
Bancoora
.