Music / Irregulars
Building Creative Communities -
A Chat with The Pitt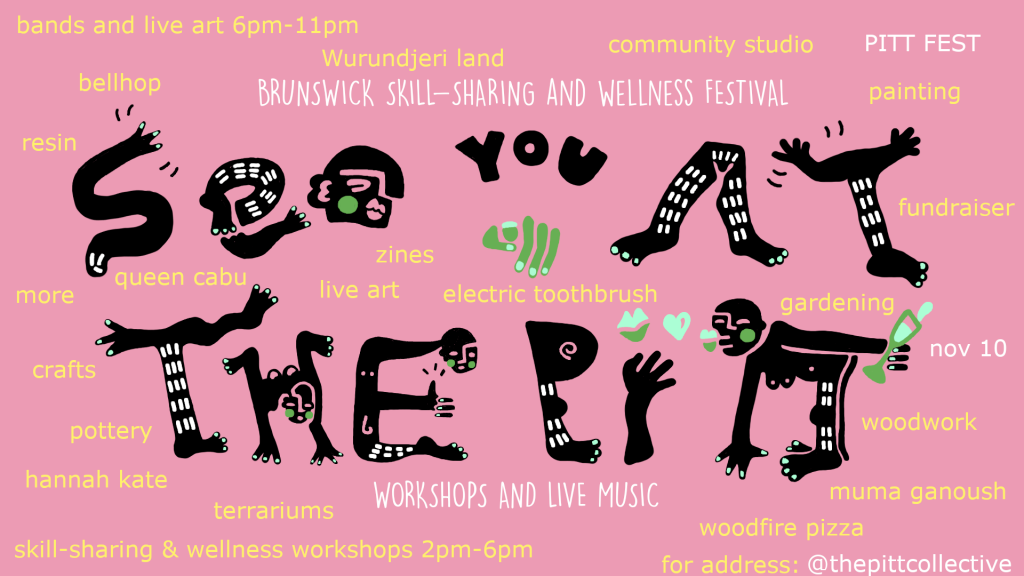 Tucked away in the backstreets of Brunswick, The Pitt is an emerging creative space for local artists, musicians and everything in between. Instigated by visual artist Charlie Paino, The Pitt aims to become a hub for the broader creative community, providing opportunities for collaboration, creative skill-sharing and promoting wellness. Despite having run quietly for the last few months, this Sunday marks the official launch of The Pitt with the very first PITT FEST, a day of creative workshops and live music & art - essentially, a celebration of everything The Pitt stands for.

Ahead of the huge day tomorrow, we got in touch with Charlie to find out everything we need to know.
TJ: Hey Charlie, tell us a bit about what The Pitt is.

CAP: Hey James! The Pitt is a new studio and venue, hosting charitable events, projects and workshops.

Workshops are run by local hobbyists to facilitate regular skill-sharing. But all in all, it's just a place to do what you love. My collective (the wonderful people helping keep this space open) interview creatives and speakers, to curate wholesome community collaborations. It's about making the most of a vibrant and rustic space, and contributing to its history and character in ways which support each other's future.

I love all its qualities. I love that it's located on the back of a residential property and is the home of artists and creatives who all do their part for the earth and community. I love our garden, pottery wheel and woodfire oven. I love our large space that can become anything; a rehearsal and gig space, a drama class, a yoga class, a recording studio, a choir room. And I love our workshop area and lounge room, housing WACA gear, sewing equipment, painting materials, and the works of previous artists. Collectively, we have access to a range of useful tools and resources, and we want to see what we can do with them given a lil facilitation.

You're officially launching The Pitt this Sunday with PITT FEST - what have you got in store for us?

At PITT FEST, you will meet a selection of the big-hearted talents who want to open up their world to you - whether that be their world of horticulture, music, crafts, live art or food. We're throwing this together with the help of traders and upcyclers, to stimulate waste management and fun DIY attitudes (which most of us already have, which is the best). Annika Wagar (Electric Toothbrush, Pulp!) and Rad Christiano (Rad Pottery, Food Not Bombs) have collected a bunch of veg and bread during Thursday's dive, and we're super keen to hand it out and use it in the woodfire oven with Brodie Casey (Muma Ganoush, Tv Dinners, Easy Browns). Brodie is running a DIY pizza station from 4-6pm, right before the bands and live artists start. Come eat, drink and enjoy the diverse display of art forms and skill-sharing.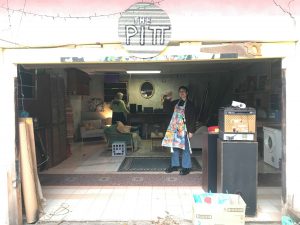 Any particularly special things happening that we can't miss?

Oooft, this entirely depends on you! You'll have to look up our event on Facebook and follow our announcements to see what you're into.

Personally, I'm looking forward to decorating and potting plants 2-6 with Tali Mahoney (Tali Mahoney, Hannah Kate, Enola Gay), and the Collage & Zine Workshop in our Art Room from 2-4pm, organized by Eve Fraser (Bush Music Fest, Girls Rock!).

I'm also excited to announce our live artists - Koukla, Amy Gagnon, Finn Doyle and Skubz Mope. Special thanks to Max Sabbanti and Kalani Katsoolis for orchestrating this line up. I'm keen to see how they depict my friends in Hannah Kate, Queen Cabu, Muma Ganoush, Bellhop, Woodwork and Electric Toothbrush. You might also find some Trouble Juice merch in the band room 😉.

It seems like skill-sharing and building a supportive creative community is at the centre of The Pitt's mission - why do you believe this is so important?

We're all passionate about this mission for our own reasons. For me, I'm choosing to regularly act on the importance of skill-sharing and community because I felt the benefits the first time I did - after facilitating my first collaborative event Charlie's Angels earlier this year.

During that planning process I learnt a lot about the different elements people bring to these kind of shared projects. I fell in love with combining elements, and seeing how we complement each other in various formats, like workshops and events. I had to keep this up, so with the money we raised from Charlie's Angels I asked Anni, Lisa and Jack to open a studio where we can continue to practice collaborative facilitation. Together we have learned so much and promoted so much more of a wholesome lifestyle for ourselves and each other and it's exciting that we're finally launching The Pitt, with the help of such a boss team of creatives.


| | |
| --- | --- |
Where do you see The Pitt fitting into Melbourne's broader creative community?

We find out who fits into The Pitt with conversation, come talk to us! If you have an idea, we could have the space for it.

Where would you like to be in a couple of years?

I don't have expectations – I just want to stay in sync with the natural pace of the community. The Pitt is ever-changing, totally diverse, and entirely representative of the drive and creativity of the people we're fortunate enough to collaborate with. But I'd also like to be in Spain... or travelling, painting and participating in alternative education.

Entry to PITT FEST is by a certain donation - talk us through this process.

Yup! 2-6pm, entry is a minimum of $5 to support skill sharers and cover goods & materials. We suggest coming with some coins in your pocket to donate as you go for workshops and refreshments.

Between 2-6pm you can also enter with 2 x non-perishable pantry items, that we will hand-out as a collective with Food Not Bombs moving forwards. Another option is to bring an item of clothing to donate to our Community Corner, where we have a communal clothes rack and pantry to trade from or contribute to. With these items we plan on holding a sustainable market, with sewing stations to teach you how to alter your new second-hand clothes.

After 6pm, entry becomes $10. The money we raise from this event will be used to keep our space open and to supply materials for future collaborations.

This event is entirely free to first nations people.


| | |
| --- | --- |
You're launching The Pitt in such a big way this weekend, any idea what's coming next?

If all flows, we'll continue to explore the creative community's endless PITT of interests and outlets and keep it super dooper accessible. We'd like to house more musicians, creatives and hobbyists in the facilitation of collaborative exhibitions, creative gigs, sustainable markets, fundraisers, social clubs, and workshops. I'm looking forward to the constant inspiration and development of new skills, and I'm feeling ready to welcome and train more creatives in collaborative facilitation.

Also see us featured in Hannah Kate's music video for her single 'Sourdough', dropping Nov 22nd!

Special thanks to everyone I've had the pleasure of collaborating with over the past five months: Nixie (17.s.t), Theo Carrol (South of The City), Lisa Beveridge (Nutrionist Witch, Soulshops), Anni Wagar (Electric Toothbrush, Pulp!), Jack Osbourne (Jack of Hearts), Tam My (Tender Yoga + Wellness), Nathaniel Belte (Dead Eyes), Rad Christiano (Rad Pottery, Food Not Bombs), Jetaime Sweetie (born2brag.com.au), Abbygaëlle Devriese (Authentic Relating Games), Hannah Wales (Hannah Kate), Dion Camilleri (recording), Amada Monteiro (Gutter Girls, Carpet Burn), Max Sabbanti (Queen Cabu), and Brodie Casey (Muma Ganoush, Easy Browns, Tv Dinners), +++++

I'd like to acknowledge that The Pitt is on the stolen lands of the Wurundjeri people of the Kulin nations. The Pitt Collective supports and endorses the course of action to decolonisation. We welcome First Nations people free of any entry fee or donation. We pay our respects to Elders past, present, and emerging. Sovereignty never ceded.

Love you all, and see you Sunday.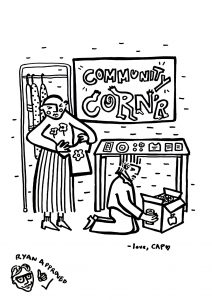 PITT FEST takes place tomorrow, November 10th, at The Pitt in Brunswick, with workshops running from 2-6pm and live music and art from 6-11pm. Message The Pitt on Facebook for the address.