Music / Premieres
Premiere:
Jacuzzi - Preserving Age
Out of nowhere comes Jacuzzi, a moody Melbourne three-piece who are merging shards of synth-pop, new-wave and the dark energies of post-punk to form a dazzlingly fresh sound. With a full album to be released in 2020, we're over both sides of the moon to be sharing its first taste, 'Preserving Age', ahead of their single launch this Friday.
Who are Jacuzzi? They look like a few of Nick Cave's nephews on a road trip. They sound like they decided to form a synth-rock band along the way.

Consisting of founding members and brothers, Christopher and Anthony Morse, along with spiritual brother Ash Briody, the project has been in development since 2016. That must be why, when you listen to their first self-titled release (an EP from earlier this year), it feels like their fifth. Utilising developed production techniques, rich synth tones and thoughtful songwriting and lyrics, Jacuzzi is a band wise beyond its years - and new cut, 'Preserving Age' is no exception.

The track is gloomy yet upbeat, poppy yet free of easy hooks. The rhythm maintains the pulsation of classic rock but steers clear of its cliches. If that's hard to conceptualise, imagine Phil Selway (Radiohead) drumming for Magazine. To top it off, Anthony Morse's vocals maintain a show-stealing presence throughout 'Preserving Age'. His sanguine tones are stamped with the seal of authenticity whilst displaying an intelligent appreciation for his fore-bears. The late Mark Hollis from influential new-wave outfit Talk Talk comes to mind, or perhaps a less-glam-more-goth Billy Idol from an alternate universe.

Make sure to listen to this one all the way through. From the ominous synth growls that open the track through to the shiver-inducing vocal refrain "I want you to breathe with me" at its end, on 'Preserving Age' Jacuzzi demonstrate a mature sensitivity to the drama that can unfold through just one song.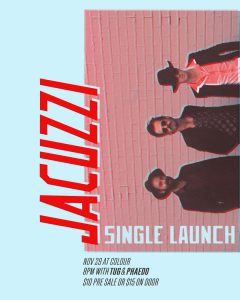 Jacuzzi are launching 'Preserving Age' at spicy new Melbourne venue Colour Club, on Friday, November 29th.