Music / Premieres
Video Premiere:
Anna Cordell - Nobody Knows Us
Following the release of 'Nobody Knows Us' earlier this month, we have the pleasure of premiering the stunning new clip from mesmerising indie-folk specialistic Anna Cordell today.
After opening gently with a shimmering wall of chiming guitars, 'Nobody Knows Us' unfolds around Anna's captivating vocals and we're instantly immersed in the ebbing soundscape as a stomping rhythm section grooves along. Delicate and commanding, Anna's voice is easy to get lost in, as she weaves each ethereal melody through the blossoming instrumentation. It's a stunning taste of where her debut album might take us, and as the mesmerising layers amount to strike on a deeper level, the result is both slightly unnerving yet powerfully emotive at once.

Out today, the track comes with a stunning video created by Belgium-based photographer and dancer Nicha Rodboon. Shot during summer in Antwerp, the clip masterfully echoes the hazy, free-flowing nature of 'Nobody Knows Us', as we see two dancers moving intuitively to Anna's music while the sun slowly sets behind them. Just like the track, it's completely enthralling to watch.

Speaking about the collaboration, Anna shares "I had been following Nicha's beautiful photography of dancers, we got talking and she said she was keen to try creating something in film to go with my music. I let her choose her favourite track and a few months later she sent me this! I found her and these beautiful dancers' interpretation so touching, and so perfect - I said, don't change a thing. It's her first ever video and I just felt it has SO much heart - I felt like, this person I have never met, this dancer who grew up in Thailand, now living and working as a dancer and photographer in Belgium - just GOT me. It is a rare and very exciting thing to experience - I'm looking forward to collaborating with her again."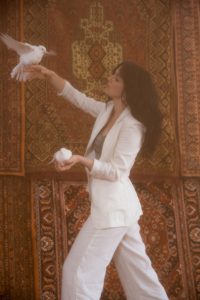 Anna Cordell's debut album
Nobody Knows Us
is due to be released on February 14th, 2020. Anna is currently raising money to fund the production and promotion of the record - donate to her Pozible campaign
here
.