Music / Premieres
Premiere:
The Dull Joys - Natural Habits
On their new album Natural Habits, local noisemakers The Dull Joys have crafted a collection of atmospheric post-punk that has their songwriting and musicianship increasing in both ambition and scope.
If pure punk was always about the outward railing of one's emotions, its post-punk cousin has always leaned toward a more insular context - dark atmosphere with brooding lyrics - and Natural Habits is layered with it. The Dull Joys share this aesthetic that bands like Denmark's Iceage have brought to relatively mainstream surfaces in recent years.

At least, that is, until after a short introduction. Album opener 'Compromise' is an instrumental star-spangled smack of Western goodness, of the sort that usually plays as the dusty town's hero rides off into the sunset within a glorious 1950's film; like the innocent teenager who hears Marr's guitar before Morrissey's lyrics, we have been duped. 'Turn The Other Way', the album's first single, features a strikingly mismatched vocal hook, the three vocalists fighting for attention around the caustic guitar work. The lazed, hazed strumming in the titular 'Natural Habits' makes for the centrepiece of the album - ironically where guitarist/vocalist Jordan Obarzanek claims to want "no introspection, just something fast, to bypass all connection".

The band isn't afraid to experiment with texture either, which allows flickers of light through the denseness. The melancholic 'Never Met You' is a jangly, wistful indie pop cry to near-impossibility of forgetting delicate and painful memories. It's then followed by the folksy 'Up Ahead', with Dylan Leech's howled vocals and Zeb Fernandez's rueful percussion.

Dolewave was always a much-derided term (what band of 20-something year olds haven't found themselves struggling for money in pursuit of their music?) but it's indelibly imprinted on modern Australia's musical identity and The Dull Joys share the genre's central pessimistic tenets, but shroud it all under a hazy layer of noir post-punk. 'Without Cover' doubts that "you feel comfort in that house you don't own"; album closer is even titled 'In Debt', the perennial state of so many weary Australians post-university.

Rounding out the album, 'In Debt' arrives to be the most sweepingly beautiful track on Natural Habits. A long ambient introduction by Chloe Sanger's violin accurately sets the tone as she introduces a rueful meditation on trying your best in spite of woes. Indeed, this could be an Australian compatriot to Iceage's doomed anthem 'Against The Moon', their virulent song of the travails of constantly feeling as though you're wasting your time.

The members of The Dull Joys may personally share this sentiment - rest assured, though, that with releases like Natural Habits, they're certainly not doing that.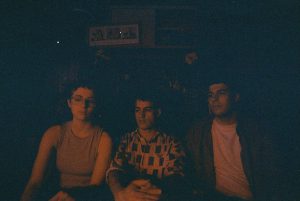 Listen to 'Natural Habits' above, and catch The Dull Joys launching the album on Thursday, December 5th, at Nighthawks with LoVision and Venetian Blinds.