Music / Premieres
Premiere:
Witching Hour - The Spell
On her debut single 'The Spell', Witching Hour has conjured up a transcendent electro-pop anthem that doubles as an incantation for self-love and growth.
I've graduated from sprinkling cinnamon over my shoulder whilst twirling in a clockwise fashion, hoping to bewitch my crush. My fifth-grade self is thrilled. I now know the only person worth bewitching at the moment is myself - and as luck would have it, Witching Hour's debut track 'The Spell' is dedicated to purely that. The magical pop artist (a.k.a Claire Quartz) is flying straight into your late summer nights with a melting pot of mystical spoken word, addictive hooks, and synaesthetic samples.

With the sweet darkness and powerful experimentation reminiscent of Billie Eilish and Princess Nokia, 'The Spell' perfectly aligns with the spike in alternative spirituality we're seeing in pop culture. There's a balance of glimmering synths and throbbing basslines that elevate the song's message - an affirmation of self-love and personal growth, in the form of a literal spell. This is a track that would easily slide into a dark clubroom set, a pre-game playlist, or an episode of Sabrina.

With co-writing help from Tim Palstra (Purr Usual, Home Planet), Witching Hour has a full stack of tracks on the way inviting you to explore her world of love, loss, and grief. She also may or may not have also drawn from her familiar cat, Arnie, for lyrical help. If this debut is anything to go by, we can expect a bunch more of wholesome yet powerful electropop. Then again, Witching Hour's tangled mix of influences suggests she's not going to be put into a box easily. She's here to defy expectations and nurture your self-growth. You can actually recite the lyrics to 'The Spell' to focus your "energy and manifest an awoken woman for the world to see", or you can just bounce along to the wickedly seductive beat. You do you.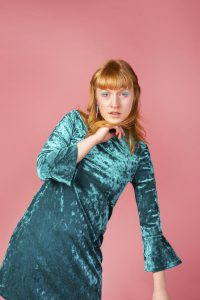 Listen to 'The Spell' above and keep an eye on Witching Hour's future via her socials.