Music / Features
Track by Track:
Chef's Best Records – Chef's Best Vol. 1
Ahead of the launch of their inaugural compilation this afternoon, we convinced fresh Melbourne label Chef's Best Records to give us a little taste of what we can expect from the fuzz-infused, motley degustation that is Chef's Best Vol. 1. A genre-melding, bone-rattling banquet drawing from punk, prog and garage rock, it's the raucous fare that will leave you hungry for more.
Fed up with the sheer, unappreciated talent of their friends' bands, two mates named Hamish and Luke decided to start up Chef's Best Records to "celebrate and promote" them through the release of a compilation,
Chef's Best Vol. 1
. The album features both a single and a cover from Black Snake Whip, Le Pine and Greyjacks and offers a sprawling insight into some of the most uncompromising minds of the Melbourne underground. 


Black Snake Whip
brandish their menacing genus of jazz-laced prog-funk with a grin, exploding into an uncontrollable barrage of fuzzy punk rock – all the while maintaining their mischievous tone. It's no small order to deliver this detailed a depiction of the apocalypse in a mere five minutes. Their rendition of 'Tainted Love' is notably more restrained, and showcases the diversity of their technical repertoire. 


Le Pine
are a surf inspired band whose sound seamlessly transitions between airy garage-pop and vast, introspective psychedelic interludes. Their take on 'Run Through the Jungle' tucks away a tight, heart-of-the-bayou jam into a spooky, melancholic take on the classic. This masterclass in sonic diversity is all held together by forlorn lyricism and a wistful vocal performance.


Greyjacks
have got to be some of the rudest boys in town, delivering their brand of incredibly skatable thrash punk and melodic hardcore, with interwoven elements of ska. They send gunfire guitar riffs soaring over impossibly tight rhythm grooves, ever ready to fall into rabble-rousing formation beneath some unapologetically aware lyricism.


We got in touch with the bands featured on the compilation to take us through a track by track breakdown of the album.
'Spanner in The Works' - Black Snake Whip 



Anxious-chaos-prog-punk song about realising something just isn't right and getting a grip before you lose the plot completely. The song has lots of loud guitars, bass, drums and singing and is at a fast tempo. We won't say anymore as that's cheating.

'Time to Rise' – Le Pine



This is the first song we recorded with our new drummer Alex (he plays in Greyjacks and many other bands!), so it's more of a show case of our new sound. Thunderous fills with plenty of feel, 'Time to Rise' considers themes of potential versus motivation – a common conflict within our demographic. This change is something we find happening even within our own songwriting. We tried to show this musically with our rigid 11/4 groove and loose call and response vocals, which are elements that we really haven't explored prior to this new song.

'T.R.O.C.A (Systemic Hydra)' - Greyjacks



This song is our most musically and lyrically complex song to date. 'T.R.O.C.A' explores the current state of the world's political climate and the redundancy of us trying to change any of it. It sucks because there will always be some just as impotent left to replace the powers that be, leaving us with a systemic hydra. There is a lot going on musically too with elements of punk, thrash and ska with a lots of weird time signature and tempo changes.

'Tainted Love' - Black Snake Whip (originally by Soft Cell)



We chose the song because we like it and sounds nothing like the music we make. So, essentially covering it in a style that's super different to our sound and we thought that'd be really cool. To sum it up, it's a southern gothic-proggy-math-jazz version of a synth-pop low-tempo dance track.

'Run Through the Jungle' – Le Pine (originally by Creedence Clearwater Revival)



'Run Through the Jungle' seemed somewhat like an obvious choice. It is a classic and we have lots of love for Creedence. The song has a simple chord structure and progression that made a fun basis for us to explore. Nonetheless, we felt it necessary to add our flavour to it. Throughout the additional breakdown jam and key-change, we sought to explore the dark and eerie themes of 'Run Through the Jungle' while still illustrating the tropes and nuances of our own band.

'Take A Long Line' – Greyjacks (originally by The Angels)



When trying to come up with a song we really wanted to choose something everyone knew whilst changing it up enough fit with in our own style. So, we made a ska-punk song out of a song by The Angels. This take is some-what of a throwback to our earlier stuff that took a lot of influence from bands such as The Arrogant Sons of Bitches. Straight up ska-punk with some sweet gang vocals from the rest of the bands at Chef's Best.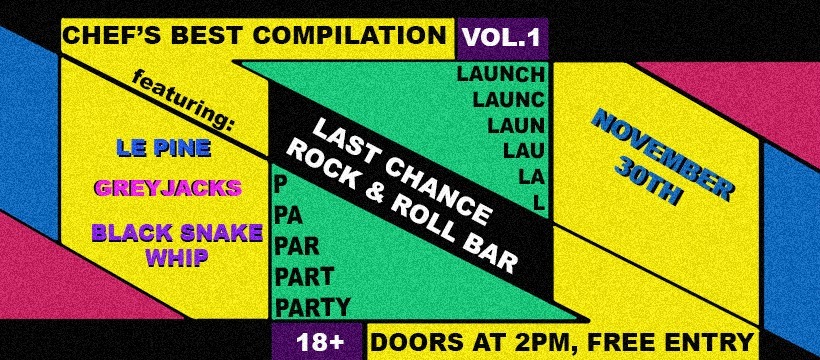 The explosive first release from Chef's Best Records, Chef's Best Vol. 1, will be available for your digital consumption from streaming services, as well as a limited run of CDs, from the 30th of November. They are celebrating its release at Last Chance Rock and Roll Bar this afternoon with a free show in the front bar.