Music / Premieres
Premiere:
The Wires - Plastic Mask
Otherworldly alt-rockers The Wires have just dropped their debut album Plastic Mask, and it plays like an acid-soaked road trip into their mesmerising sonic universe.
Formed earlier this year, The Wires are a new band made up of members of local groups The Slingers, Alphonso, Bonefinder and Raindogs. While each of their other projects toy with different iterations of indie rock, Plastic Mask leans into the member's psychedelic tendencies more than ever, resulting in a collection of songs that are both hypnotic and turbulent.

Opening with the slowburning 'T.C.G', we're instantly immersed in the world of The Wires, as woozy organs meander and languid melodies drift by, over a bed of warm guitar jangles and a steady backbeat. Up next, 'Hound' is illusively volatile, its lucid synths sucking us in before we're hit with a propulsive groove and fiery guitar work. The track doesn't resist the urge to expand and sprawl, as it stretches out into an atmospheric jam - a reoccurring theme that the band touch on again in the midst of the captivating 'The Loop' or the explosive 'Gilligan's Cousin'.

The centrepiece of the album comes at songs three and four, with the title track followed by latest single 'Underneath' - two opposing moments of psychedelia that demonstrate The Wires' versatility. 'Plastic Mask' is slow and expansive, looming ominously with droning guitars and uncanny synthesisers, whereas 'Underneath' builds around a crunchy, driving groove, that pulses and warps around frontman Ben Hooper's enigmatic vocals.

The two tracks perfectly showcase the breadth of The Wires' sound while highlighting what makes the whole of Plastic Mask so thrilling - its wont to lull us in by the dreaminess of it all, just to send us spiralling with every left-turn and unexpected change of pace.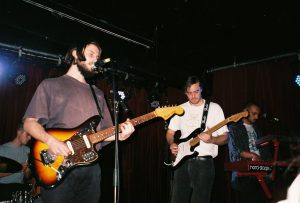 Get lost in Plastic Mask above, and keep up to date with The Wires by following them on their socials.