Music / Features
Women Who Run With The Wolves -
A Chat with Isadoré
Following the release of 'No Illusion' last month, we got in touch with the enigmatic Isadoré to find out more about her dreamy electronica and the feminist novel that has inspired her newest project.
Despite being Isadoré's first new music in two years, 'No Illusion' doesn't take much time to have us completely captivated. Opening with some blooming synths and a minimal backbeat, the track slowly expands around Isadoré's vocals, which float dreamily through the ebbing soundscape. However, just as we're lulled into a trance, the track explodes into pure euphoria, with waves of playful synths as Isadoré's voice soars, and 'No Illusion' is transformed into a dream-pop anthem. With an immersive haze hanging over the track, it's a stunning first taste of where Isadoré is heading next.

We got in touch with Isabelle Reynaud, the mastermind behind the project, to find out a little more about 'No Illusion' and what's to come.
TJ: Hey Isabelle! You just released your new single 'No Illusion' last month - what's the story behind the track?

I: I picked up this book Women Who Run With The Wolves by Clarissa Pinkola Estés mid-2017 when my life was pretty upside down. I had come out of a long term relationship, I had given up a permanent address and was living as a house-sitter/out of my car whilst working three jobs. I wanted to do more in life than just work, pay rent and feel the stress of not making enough money in a big city. Doing this allowed me to release my debut EP, travel to India and later on, travel to Canada and attend a residency I was invited to.

But underneath all that was exhaustion and anxiety. I had been living out of suitcases for over a year, I was feeling incredibly uninspired with no new music on the horizon, I was feeling defeated with no idea how to break the cycle. Picking up the book was a real turning point I believe.

This book got me out of waiting around for something/someone to take me by the hand. It taught me to take my own hand and lead myself down the path I want. Take control and listen to my intuition. I had always wanted to apply for a musicians in residence at The Banff Centre for Creativity and Arts, but never thought I would be good enough. This book gave me such a strong purpose in life and all my self doubt left the building. My music suddenly became less about me and more about what power and joy music can bring to others. I was listening to a side of myself that was brave, unapologetic, strong, fierce whilst tender and compassionate towards myself all simultaneously.

My proposal for my Banff application was to capture this book in song. Most of these songs were written based on specific parts in the book. But right towards the end of my residency 'No Illusion' came to me and it felt like the perfect summary of the whole book. The "wild woman" is more a feeling than a being, but in this song I made her a woman. Allowing her to take me places within myself I once feared. Estés resurfaces the Wild Woman archetype through her stories and that is what I wanted to do through song.  The "wild self" is your most intuitive self, your deepest nature and if you listen and trust her she will make sure you have a fulfilling life. 

This is the first single from the collection of new music that was inspired by this book. Tell us about Women Who Run With The Wolves and what made it so inspiring.

Women Who Run With The Wolves is a collection of stories, myths, legends and fairytales from all over the world in their most original unaltered state.  It was so refreshing to read stories where women are portrayed in many different forms. As Estés explains stories are medicine: "they have so much power, they do not require that we do, be, act, anything. We need only listen. The remedies for repair or reclamation of any lost psychic drive are contained in stories." I love that line! Many myths, fairy tales and stories over the centuries morphed extensively to fit religious and political narratives of the times. Resulting in the Wild Woman archetype to be buried and forgotten about. I felt this immense support from my past mothers and sisters whom have walked before me and a strong pull to bring their resilience into my presence. 

This book reveals a narrative for the Wild Woman that we can all identify with. The Wild Woman archetype is many things so I thought I would share some slices of Estés' writing as she really has a way with words worth experiencing. 

"It means to establish territory, to find one's pack, to be in one's body with certainty and pride regardless of the body's gifts and limitations, to speak and act in one's behalf, to be aware, alert, to draw on the innate feminine powers of intuition and sensing, to come into one's cycles, to find what one belongs to, to rise with dignity, to retain as much consciousness as possible."

"She is busy with the work of invention, and that is the instinctive nature's main occupation. As in all art, she resides in the guts, not in the head. She can track and run and summon and repel. She can sense, camouflage, and love deeply."  

"She is the Life/Death/Life force, she is the incubator, she is intuition, she is far-seer, she is deep listener, she is loyal heart. She encourages humans to remain multi-lingual; fluent in the languages of dreams, passion and poetry. She whispers from night dreams, she leaves behind on the terrain of a woman's soul a coarse hair and muddy footprints. These fill women with longing to find her, free her and love her."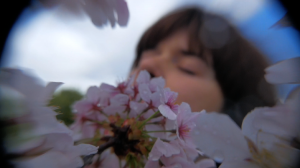 Who might you recommend Women Who Run With The Wolves to?

I am appreciative of the feminist movements that have been lead before me and acknowledge we have come very far. However, patriarchal ideologies still exist and are deeply ingrained into society, so I think this book is still relevant and applicable to today.  I think this book is good for all genders. I think we all have a "Wild Woman" waiting in the curtains for her cue. There is this beautiful line that sums up who the book is for nicely. 

"The doors to the wild Self are few but precious. If you have a deep scar, that is a door, if you have an old, old story, that is a door. If you love the sky and the water so much you almost cannot bear it, that is a door. If you yearn for a deeper life, a full life, a sane life, that is a door." 

You've mentioned 'No Illusion' was written during a songwriting residency in Canada. Tell us a bit about that experience.

Set in the Rockies in Canada, I cannot recommend The Banff Centre enough to any artist. I was able to immerse myself in music, meet the most wonderful like-minded people and be so close to such stunning nature. I went mid-winter and was surrounded by fresh snowfall everyday. I had my own hut in the woods with a piano and all the equipment I needed to make music. For once I didn't feel guilty spending so much time working on music all day and night. I didn't have everyday tasks that would usually pile up. I was solely there for the music and that freedom got a lot of the creative juices flowing. We also had lots of performance opportunities available to us, really interesting mentors and incredible facilities available 24/7. In some of the rooms I felt like a kid in a candy store. A whole room dedicated to harps, or harpsichords, a state of the art listening room, a library you could lose yourself in for days and oh so much more! 

Has your songwriting process changed thanks to the residency?

Yeah absolutely  - it was the first time I approached songwriting with more of an objective in mind. Previous to Banff, writing music had always been a place of healing and if a song developed naturally then double win. Whilst it is still so much of that - I think I have become a more efficient songwriter and am a lot better at finishing songs. Having the book as an external influence released the pressure of each song having to mean something incredibly personal. The songs I ended up writing in Banff are still attached to my heart but more so with an invisible string.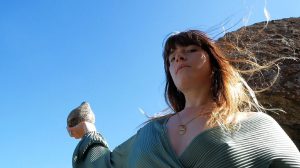 You've also just released a new clip for 'No Illusion', a pretty striking collection of footage that is both cinematic and candid. Talk us through the concept for this clip.

I had been gifted a deck of Tarot cards a couple of months back from a dear friend back in Canada. I started exploring the art of Tarot and got really into it. I love Tarot art and the symbolism they offer in ones life. I was always pulling Cups so I thought it fitting to let the clip be driven by these Cups. The main element associated with Cups is water; symbolic of fluidity, intuition, healing, and cleansing. It is a feminine element and reflects the subtle power that often resides within women. I loved all the little bits of information I was getting from my cards and 'No Illusion' felt like the perfect song for this imagery.

Ita Sypniewska who made the clip is a longtime friend and collaborator. We work together so well and are always on the same page so it all came together very easily. Ita flew down from QLD to celebrate my birthday. We went down to Sandy Point with a few friends and just filmed a bunch of footage. Ita had wanted to make a documentary and then from that was the birth of the music video.

Filming on the Gunaikurnai nation was a very special time - I really feel a spiritual presence there. It evoked a deep sense of consciousness and respect for the wilderness bringing me closer to what I believe is my "wild self". I like the candid/doco style of the clip it became in the end because I feel it really captures my relationship between my instinctual self and reality. I wanted to share a slice of my world to people in its rawest form and balance it with a slice of the intuitive world. 

You're back in Melbourne now, so what's coming up next for Isadoré?

I'm very excited to have songs ready to release. Over the next couple of months I am releasing more singles that are part of this project. I've got a few things I'm cooking up to be filmed over the summer too. I'm also preparing for my first ever show with a band. Up until this point I have always played solo. I've really missed the energy you exchange on stage with a band so I'm looking forward to that for sure!
Watch the new clip for 'No Illusion' above and keep up with Isadoré by following her socials.