Music / Features
They Made Me Do It -
Talking Influences with Hannah Campbell
Gold Coast singer-songwriter Hannah Campbell's latest single 'Blue' is an ode to the bonds of friendship that hold us together, and just listening to the track makes us feel like we've made a new friend in Hannah.
After the release of 'Run Like Wolves' and 'East Coast Dream' throughout the past year, Hannah has taken her phenomenal storytelling ability to the next level with 'Blue'.

The indie-folk track is a heartfelt love-song for those in our lives that provide daily support and comfort, and the mood of the piece truly reflects that. Expanding open gently, Hannah's voice starts as a mere whisper as we're introduced to the inner-workings of her mind, while each instrument lightly touches the soundscape in a way that gives a clarity to the whole. From the light brushes of the drums, through to the chiming acoustic guitars and piano, and the reverb-rich slide guitar, the composition feels perfectly weaved together. The highlight of the piece is how beautifully complimentary the harmonies interact with the closeness of the naturally raw lead vocals. 'Blue' is reminiscent of artists such as Phoebe Bridgers, Soccer Mommy, and Joni Mitchell.

It's a fitting time to release such a balmy track as summer rolls in - we'd recommend listening with a group of friends, maybe around a campfire, but be sure to have a box of tissues handy for when it starts tugging on your heartstrings.

To dig a little deeper, we had Hannah talk us through the key influences that helped make 'Blue' what it is.


Leif Vollebeck - Twin Solitude
Leif's album Twin Solitude was a big part of my life when I was writing 'Blue'. I think that even though the arrangement of 'Blue' is pretty different to something he would do, it's the sense of calm and groundedness that I got from this album that bled into 'Blue' like watercolour spreading.


Bon Iver - 'Holocene'
Everything Bon Iver does is inspiring, but his self-titled album inspired a lot of the synth and guitar tones you can hear floating around in the layers of 'Blue'. I remember listening to Bon Iver most mornings for a long time on my way to work, and the start of 'Holocene' always felt pivotal, like the sun was rising just to listen along.


Warm rooibos tea

Sitting next to a mug of rooibos tea is like sitting next to a good friend. I sat next to a lot of rooibos teas, sometimes with some honey in there, while I wrote and recorded 'Blue'. And I think that's why there's so much warmth in the song - because I was trying to make sounds that felt warm and comforting and sweet, that you could sit with and mull over a moment to yourself.


Neil Finn - 'Gentle Hum'
Neil Finn is probably my biggest influence and my music wizard guide through life. He taught me most things I know about the world, like "wherever there is comfort there is pain", or how to be "wise enough to carry the scars without any blame". Ooof, he gets me good. So I think in every song I write, Neil Finn has sprinkled some fairy dust on it somewhere. 'Gentle Hum' is a song I listen to when I need to feel close to home.


Rainy Days

Rainy days go hand in hand with rooibos tea in my book, but there's something about sitting inside with someone you care about, talking about the world while the sky falls. In 'Blue', I was thinking a lot about conversations I've had with dear friends where we've opened up about our weariness and vulnerability. And I've had a lot of those conversations on rainy days.


Big long hugs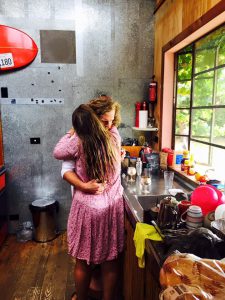 They say a 20 second hug can reduce harmful physical effects of stress in the body. 'Blue' is a song for calming down, inspired by the many, many countless times the only thing that could console me was a long silent hug. We should all hug each other more. I bet Bon Iver and Leif Vollebeck and Neil Finn get heaps of hugs.


My friend Winnie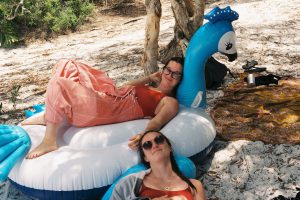 I actually wrote 'Blue' for a friend of mine who somehow manages to be an absolute cracker friend to just about everyone she meets. Winnie has taught me the value of a five minute phone call just to say hi, and the power of validating emotions before exploring solutions. She is a calm presence, but an absolute force to be reckoned with, like a peachy ocean at sunset, or the air after a thunderstorm.
Listen to 'Blue' above, and follow Hannah on Facebook to find out where you can catch her next.