Music / Premieres
Premiere:
Great ~ Falls - Ease
Today we're thrilled to be premiering the debut single from Melbourne newcomers Great ~ Falls - 'Ease' is an enthralling dose of their slowburning indie-rock and a stunning first taste of the emerging group.
Despite it being just their debut single, the level of composure and self-assurance that breathes through 'Ease' instantly reveals that Great ~ Falls have got to be one to watch as we head into 2020.

After opening with a lone minor chord, 'Ease' begins to slowly unfold as frontwoman Lillian Albazi lures us in with her enigmatic voice, somehow sounding both dreamy and haunting at once as she weaves a striking melody over the stark guitar strums. After a momentary pause, the song blossoms open completely and picks up a dark swagger, the guitars gleaming over a steady backbeat while Lill's vocals amount on themselves, immersing us in layers of emotive harmonies.

With its ebbing groove, 'Ease' lulls us into a haze as it flows on, yet resists the urge to fully explode open. Instead, each added layer is instantly engulfed by the simmering instrumentation to become part of the whole, and even as a sprawling solo threatens to steal the limelight as it spasms against Lillian's voice, we're only further immersed into the blissful soundscape as it washes over us.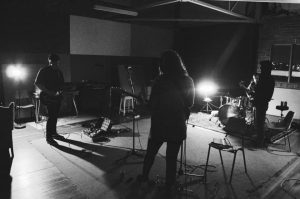 Listen to 'Ease' above, and catch Great ~ Falls launching the new single tomorrow, Thursday 9th, at the Grace Darling Basement with Emma Shields and No Teeth Motif.