Music / Premieres
Premiere:
Jungle Breed - Lennox
Today we're thrilled to be premiering the debut album from local garage trio Jungle Breed - Lennox is a collection of clever jangle-pop mixed with moments of weirdo charm that has us completely hooked.
When Lennox's first single 'Wasterr' dropped back in 2018, Declan Byrne from Triple J left a review on their Unearthed page saying "i once stood near austin from parquet courts at a dick diver show. i reckon if he had to recreate dd's music with a parquet twist, this would be what it sounds like." I've always been struck by how accurate this description was for Jungle Breed - their sound managing to perfectly amalgamate the unhinged drive of Parquet Courts with Dick Diver's modest charm. With its warm chords, sturdy backbeat and irreverent hooks, 'Wasterr' is a fitting way to introduce Lennox, and as Jungle Breed flirt between scrappy pop and post-punk, the tone is set for what's to come.

Up next is 'Soup', a moment of sunny jangle-pop that might not feel out of place on a Kodak advertisement with its bouncing groove and playful guitar and organ combo, and moments later Jungle Breed recreate this mood with the affable 'Eat Me', as co-vocalists' Lincoln Healy (guitar) and Issy Orsini (drums) weave some of the album's tightest hooks in their distinct, yet complementary, voices. Tracks like 'Lonely' and 'Routine' continue to play to Jungle Breed's strengths while turning the heat up, Issy and bassist Angie Kinna locking in and propelling things forward while leaving plenty of room for Lincoln's zigzagging guitar work.

It's moments where Jungle Breed divert from their regular script that really highlights the band's versatility and scope though. 'No Ideas' slows things down to catch the band at their most tender, as Issy showcases her rich vocals amongst blossoming guitars, and the title track is the darkest thing we've heard from Jungle Breed, with both singers spitting out their vocals as the instrumentation careens and splutters. Sandwiched between these two tracks is 'Swim Away', a brief foray into weirdo art-pop that signals the band's unwillingness to be easily pigeonholed.

Finally, Lennox is rounded out with 'Succulents', an album highlight that encapsulates everything to love about Jungle Breed - their off-kilter quirks, unassuming pop smarts, and an ability to blur the lines between wide-eyed enthusiasm and weary melancholy. And as the the final chords ring out at the track's emphatic conclusion, the band swelling with an earnestness that feels impossible to fake, it's easy to be caught up in the pure pleasure of the moment.

To celebrate the release of Lennox today, we got in touch with Jungle Breed to get to know them a little more.
TJ: It's hard to believe you haven't made it onto TJ yet but here we are. Want to tell us a bit about Jungle Breed?

JB: Lincoln and I met at school in Year 8 and became best friends, and once we got into VCE, we had more free periods/ were more casual with skipping classes to meet up in the always empty and underfunded music rooms that had Line 6 amps and falling apart kits. We met Angie a few years later at a Murlocs' show and immediately hit it off - all we've ever wanted was an outlet to play music with people we love, hang out and spend time together and I think we have achieved this.

We've just had the pleasure of premiering the new album - what's the story behind Lennox?

Most of the songs were conceived in the time Lincoln was living on Victoria St in Richmond, and experiences of the culture of the area shaped these songs. For those that don't know, Lennox St is opposite Melbourne's only safe injecting room. It's currently saving lives and giving people a daily reminder to seek help and giving them the support to get help that they wouldn't otherwise have. This current government is always looking for ways to close it but the truth is, it's never been safer, the residents are co-existing and syringes stopped showing up so often. Other songs were written about themes of alienation, ambition and mundane sickness. 

The album is bursting with DIY charm, talk us through the recording process.

We recorded at Bush HQ in Coburg, Adam Smith who recorded most of the songs was really great to work with capturing the live sessions we had in that room throughout 2019. Other bits and pieces were done in Lincoln's room by Erik Scerba who mixed and mastered it all. They're both fantastic artists.


This album's been a long time coming, with 'Wasterr' coming out way back in mid 2018. How's it feel to finally have it out?

It's an amazing feeling having this out in the world, it represents all the different times in our lives that we have shared together and is brutally honest. We hope people will connect with it and enjoy it as much as we enjoyed making it.

You're launching Lennox later this month at the Grace Darling - any idea what to expect? What else is on the cards for Jungle Breed in 2020?

The sickest fucking show ever with the sickest fucking band ever in the fucking sickest room in Melbourne! It's going to be so much fun playing with Porpoise Spit and the Tropes who are all amazing talented people, and we're very excited to play with them both. You can expect laughs, tears and smiles. The room is small so get down early and don't miss out. 

This event is held on the weekend of Invasion Day where we will be marching in support of the abolition of January 26th being celebrated as 'Australia Day'. This day marks the slaughter and dispossession of Indigenous people by colonialists and should be mourned, not celebrated. We will be donating $2 from every ticket to WAR (Warriors of the Aboriginal Resistance) extended donations are welcome and we hope to see you standing in solidarity with Indigenous people the following day at Parliament House.

We're also already working on new songs so if you don't hear some of it at the show, we'll have them on their way to Bandcamp pretty soon.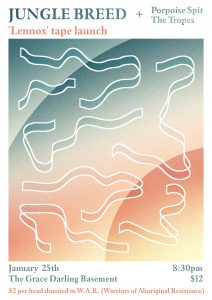 Have a listen to
Lennox
above, and head to
junglebreed.bandcamp.com
to pick up a limited pink cassette. Jungle Breed launch
Lennox
on Friday January 25th, at the Grace Darling Basement.