Music / Premieres
Track by Track:
Mighty Duke & The Lords - Caribbean Rollerama
If you've been feeling disheartened by the current state of Australia and its governance through this wretched, burning summer, then it's high time you got a pick-me-up - cue a cocktail of afrobeat, cumbia, Miami disco and bubbling beach jams. Mighty Duke & The Lords are Melbourne's own tropical-pop indulgence, and their new album Caribbean Rollerama is poised to extend summer indefinitely. But like, the good and cool kind of summer. Not the burny one.
Though the group has been manifesting a homage of sorts to 1950s Trinidadian Calypso music for over eight years, Caribbean Rollerama is only the quintet's second full-length release. It's a creation moulded by the contributions of seasoned producer Gareth Parton (The Go! Team, Big Scary, Foals) and Soundpark - the Northcote studio staple capable of stellar sounds whilst being "held together entirely by blu-tac and sticky tape," as co-frontman Duke claims. This new album ups the ante from their self-titled 2016 album Mighty Duke & The Lords. It's likely due to their inescapable energy, compounding each year like a tropical cyclone, and jubilant showcases at fests like Dark MOFO, Meredith, Falls, Riverboats and Sydney Festival. 

Mighty, Duke, and the three Lords (bassist Lord Fjord, junk percussionist Lord Lazybuoy, and saxophonist Lord La Mer), are as likely to fill a dancefloor with avid fans as they are unsuspecting punters strolling past. There's something in the Caribbean Rollerama repertoire for everyone. Maybe you'll fancy the exuberant vocals and cheeky lyrics of 'Obama' and 'Passion Of The Lords' (this one's literally about a rum-based jungle juice). Saucy instrumentals on tracks like 'Jacques Cousteau' and 'Marco Polo' provide a slow-burning contrast sublime on a humid night. Or maybe you'll be partial to the frenetic spirit barely contained within tracks like 'Realidad' and 'Sugar'. Hot tip - the former features fiery percussion and a male chorus that sounds like a muddling of The Cat Empire's 'The Chariot' and Mulan's 'I'll Make A Man Out Of You'. 

Once you've found your summer track soulmate on Caribbean Rollerama, go meet it in person at their album launch this Friday, in the Common Rooms at Trade Hall, Carlton. And to help you get that extra bit of prep in, Mighty and Duke have been kind enough to share a tracklist study guide with us below.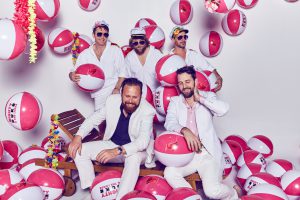 Obama

Mighty: What is the former President of the United States doing now? After eight years in office and being succeeded by an orange leather handbag, he headed to suburban Melbourne to manage the much loved Caribbean Rollerama roller skating rink of course! Y'know the place: it's down Ferntree Gully Rd in Scoresby, right next to the Caribbean Markets! This place holds a special place my heart. I used to buy floppy disks of video games and fleecy zip-up jumpers at the Carribean Markets back in the 90s, and I had my first kiss behind one of the arcade machines at the Carribean Rollerama. 

We Got Tonight

Mighty: Two lovers with only one night left! This is an ode to the beginning of a long-distance relationship when separation is so close the only thing to do is to dance! This song was inspired by a life on tour, where every new relationship begins with a goodbye.

Capture Gold

Duke: Sometimes life goes well and you don't have a care in the world. No money, no worries. Get that little bit of happiness and hold it tight. Squeeze it hard enough for long enough and you'll get diamonds. Find your own way. Turn the lead to gold.

Pool Party

Mighty: "This ain't no beach bozo!" There is a special kind of feeling that a pool party evokes, when the parents of a friend have left town and the liquor cabinet has been raided. It's a suburban fairy tale where people can fly (ie. jump off the roof into the pool) and even the local pets are up for a dip.


Realidad

Duke: Action. Adventure. Revolution! From deep in the Mayan jungle the seeds of a rebellion sprout and with it a call to arms that any comrade of the downtrodden cannot help but heed. Sometimes we must fight. Sometimes we must run. Sometimes we must stand. One for all and all for one!

Sugar

Mighty: Less candy cane, more nose candy, the slow burn at the start of this track gives way to heart-palpitating rhythms that are hardly contained in a set of speakers. This song sums up the juxtaposing rhythms and frenetic energy that Mighty Duke and the Lords like to bring to our live shows.

Jacques Cousteau

Duke: The OG godfather of aquatic exploration, old Jacques was larger than life! He invented SCUBA, lived on a ship called Calypso and filmed the depths in his homemade submarines. You gotta give it to the guy, his love of the ocean was deeeep. We thought it a fitting tribute to write him a tune worthy of his colourful life of oceanic adventure.

Marco Polo

Duke: There's more mystery to the story of Marco Polo than simply bringing noodles to Italy. The connections are more tropical than you might think. He lived in Xanadu and had a flock of flamingos in his garden. He talked the talk and walked the walk in the kingdom of Kublai Khan. This is an ode to the weird history of travel and adventure with a tropical twist and a dash of ancient Abyssinian dulcimer.    

Passion of the Lords

Duke: Over the years we've picked up a thing or two about the Caribbean's favourite tipple. Rum and sun is always fun so we took that idea a little further with our signature cocktail. Combining some heavy proof Caribbean rum with Australia's favourite fruity fizz created perhaps the most perfect tropical taste sensation this side of Carmen Miranda's headdress.

The Reef

Mighty: Inspired by a night on a boat moored amongst the coral of the Great Barrier Reef, this disco diving number is an invitation to the deep where some splendiferous characters lurk! Come in for a swim, you will meet Pete the porpoise and a shark that has just completed a three-week improv course in New York.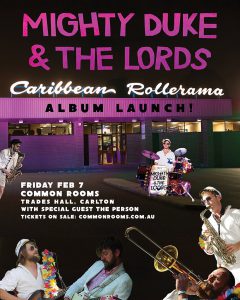 Dip into
Caribbean Rollerama
above, and head to
mightydukeandthelords.bandcamp.com
to nab yourself a freshly pressed copy on pink "coconut rough" vinyl. Mighty Duke & The Lords are launching the new album this Friday, February 7th, in the Common Rooms at Trade Hall - grab a ticket
here
.