Music / Premieres
Premiere:
The Great Divides - Face The World
A mouth-watering first taste of oddball pop newcomers The Great Divides - 'Face The World' jangles with the same reassurance as the keys you thought you'd lost on a night out.
With a name firmly rooted in the vast geography of this land we call Australia, it is hardly surprising that The Great Divides are a group founded outside the blurred safety of city limits. Hailing from the Castlemaine/Hepburn region, the project of co-writers Gussie Bandelli and Tino D'Onghia has today shared their first single 'Face The World' - a song as sparse and simple as a country town and flavoured with mundane sentiments that only a rural life could inspire.

'Face The World' kicks off with an artfully straightforward guitar and bass combo which is quickly backed up with a sturdy drumbeat, setting the scene for a song low on frills but high on feeling. Wry observations of bus trips, galahs and overcast weather are coupled with serene moments of existential dread, allowing the song to linger with a casual melancholy while the instrumentation chugs like the bus Tino sings of. Speaking about the track, Tino shares "I wrote this song while I had hit a real low near the end of high school - the bus journey I took every day was particularly hectic and the idea of facing that every morning was extremely daunting, I guess I wanted to go some way into understanding that experience".

It seems quite possible that somewhere in the central Victorian bush The Great Divides found a portal to 1980's Dunedin, took a trip, and returned with that ever-so enticing combination of post-punk simplicity and slightly askew pop sensibilities. There should be laws against music being so slack yet so good.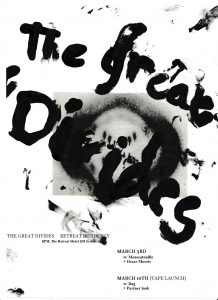 The Great Divides' debut EP
Face The World, Again
is set to drop on Friday, February 21st, via Spoilsport Records - head to
spoilsportrecords.bandcamp.com
to pick up a limited cassette. Early next month, The Great Divides are playing a mini-residency at The Retreat Hotel, catch them on March 3rd or March 10th for their tape launch.