Music / Features
In The Thick Of It All -
A Chat With Private Function
Just before they wrap up their I've Been Radicalised tour this weekend, we caught up with local punk madmen Private Function to find out about the shows so far, their latest punchy film clip and what's up next for the band.
Melbourne punks Private Function are coming off their largest six months since their formation in late 2016 - from the release of their no-holds-barred third album St Anger in August last year, to their latest film clip featuring Camp Cope's Georgia Mac punching the band in the face, through to their biggest tour to date. We recently caught up with the band's drummer and video director Aidan McDonald, to find out if the last couple of months have been as crazy as they seem.
TJ: The new clip for 'Thick Of It All' has been floating around the web for about a month now. How have fans received the video so far?

PF: It's been good, it started off quiet as we released it around Christmas, New Year period. As a filmmaker you really hope it goes viral straight away, but since its release it's been on Rage as a feature video, so it's been going pretty well.

It's a pretty striking clip - filmed in a single shot along Johnston Street and finishing at The Tote. What inspired the concept?

A lot of the time, the guys will come to me and go "we need a clip now". So it needs to be simple, something good and something we as a band can pull off.

I'm a massive fan of Spike Jonze, so I decided to pay homage to Wax's video for their track 'California' which was directed by him. It's such a famous video, and in the music video world, people will get it. But instead of having a man on fire, we wanted to have the fireyest woman in music Georgia Mac [of Camp Cope] running along the street punching us in the face. 

How did Georgia Mac get involved?

Georgia's a good friend of ours, and she was all on board for this idea -she was even asking me for months "when do I get to punch you boys in the face?" That's why I also decided if we wanted to do this shot for shot, I had to be in the back of the car. So I was lucky enough to avoid being punched in the face.

Private Function have put out a bunch of clips now each with their own unique spin - what's the creative process like when it comes to making a Private Function video?

I've been making music videos for the last ten years now with my own production company, so I'm lucky I can come in with a bit of cinema and equipment behind us. But it's mainly us just sitting at the pub, talking absolute shit, just throwing out ideas. While we're doing that, I start coming up with ideas in my head, and we have a start to the video. Then it's basically my job to go home and turn it into something, and tell the boys we are doing this on the weekend.

There's a bit of a reputation building around these sharp and fun clips, will we see more of this in the future?

Yeah absolutely, I would really like to piece all these together one day. There's actually is a little running storyline that goes across our videos - you might even say The Simpson's running McBain storyline is a major inspiration. It's very hyper over the top, so we have a very loose hyper storyline running so far.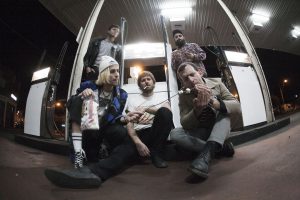 Your latest album St. Anger dropped in August, so it's been out in the world for a while now. How has the reception been since its release?

It's been going great so far. I have to admit though, I'm surprised that we didn't get any contact from Lars Ulrich or Sony, because we ran into one little problem. When we went to put the album onto Spotify, they just said no. Spotify eventually let us put it up, but they made us change the album cover - so we gave them a version of The Black Album instead.


The album is 28 mins of non-stop punk chaos, talk us through the writing process.

Sometimes Chris [Penny, vocalist] will bring a fully finished song in, but a lot of the time we will just be sitting at the pub. For example, 'My Bully Is Dead' came about when Chris told us that while he was in high school, his bully's brother passed away and he saw this bully crying. He couldn't help but feel good about it, which we thought was ridiculous, but within five minutes we had a chorus. So I took that home and worked out the chords, and next practice we had a song.   

You've maintained this sharp, punchy sound across all three records so far - has the writing process changed over the albums?

It's become more of a collaborative process. When we started we thought this would be a bit of a throwaway band, we just wanted to have a bit of fun. We like to keep things fun and simple and it reflects in the songwriting process. It used to be Chris coming in with a song, but now we are all on the same page for the direction of this band, so the process has become a lot more collaborative.

You're on the last leg of your I've Been Radicalised tour at the moment, which has seen you playing your biggest shows yet - how's it been?

Tour has been great so far, although it's been pretty crazy. [A good example would be our experience after Falls was cancelled] due to the fires. We wanted to do something in relation to bushfire benefits, and we'd already flown in PJ Russo from New Jersey. so our manager ended up getting us a gig with Amyl and The Sniffers for New Year's at Globe Alley. 

Sadly, between leaving my house to drop gear off to Globe Alley and coming back home to drop the car off, my house had been broken into - so safe to say this tour has been tumultuous.          

You've come off the back of a massive 2019, and you're already off to a hot start in 2020 - how's the rest of the year looking for Private Function?

We don't want to sit around too much, we are already at work getting a new record together. We also want to get ourselves over to Europe, and play a bunch more shows. But getting a new album out this year is the prerogative at the moment.
Private Function play the final two shows of their I've Been Radicalised tour this weekend, in Brisbane on Saturday and Southport on Sunday. Head to their Facebook page for details.