Music / Premieres
Premiere:
Hearts and Rockets x Zigzag Split 7"
Ahead of their joint show at Brunswick Music Festival, we've thrilled to be sharing two blasts of lively post-punk goodness from local sweethearts Hearts and Rockets and Zig Zag, as part of an exclusive 7" single put out by the good people at
Psychic Hysteria
and
Roolette Records
.
Given their shared ethos and love of everything fun, weird, forward-thinking and undeniably local, it's a bit of a suprise that Psychic Hysteria and Roolette Records haven't collaborated on a project yet. However, it seems the time has come, with the two labels joining forces to host their own showcase at this year's Brunswick Music Festival, with an exclusive 7" split single which we have the absolute pleasure of premiering today, featuring two acts pulled from their tight-knit communities - Hearts and Rockets and Zig Zag.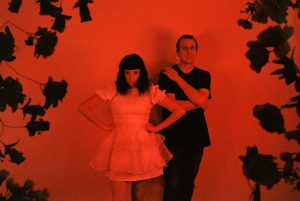 Picking up where their 2019 debut album Power left of, Hearts and Rockets' contribution 'You Don't Know What You Have Until You've Had Enough' finds our favourite synth-punk brats doing what they do best. Featuring their signature mish-mash of propulsive drum-machine grooves, grimy bass and erratic, minimalist guitar work, the track is as turbulent as it is animated. Where many of the highlights on Power featured call-and-response vocals between the duo's Kalindy Williams and Kurt Eckardt, this time their gripping vocals snipe in unison, making the exasperated attitude of the track all the more rousing.

Speaking about the split single, Kalindy shares "I woke up with the chorus of this song in my head, I couldn't stop singing it and we had been half writing a song about how sometimes humans suck and we kinda wish we were on a another planet and we have had enough of the human race so we put them together."

"We played at Zig Zag's very first gig, at a tribute night to The B-52's, and fell in love instantly. They're the perfect combo of good humans, good politics, and good music. Working with Roolette Records and with the folks in Zig Zag has been a dream - it feels like everyone is really on the same page in every way, and it's all happened really organically."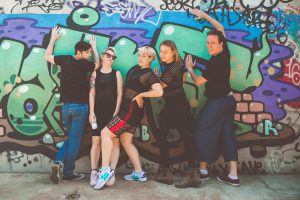 On Side B comes the debut single from self-described "big gay post punk five piece" Zig Zag. While a demo version of 'Crying All The Way To The Bank' had been floating around the 1s and 0s of Bandcamp for a little while, today's version harnesses all the potential of the original take to produce an absolute garage-punk stomper.

Powered by a punchy rhythm section, razor-sharp guitars sprawl and intertwine with frontperson Kelly Dingeldei's fervent yelp, which feels just as honest as it does tongue-in-cheek, as they attempt to find a balance between making money without compromising their need to create. As the layers amount at the track's bridge, we're thrown into a spiral of fiery guitars and thumping grooves, but amongst the chaos the band still manage to pull off their tightest hooks yet - serving as both a thrilling introduction to the new group and a whole heap of fun.

Speaking about the experience of working alongside Hearts and Rockets, the band share "We are counting our lucky stars for every day we get to bask in these two. It's been so fun learning from all their experience and WE ARE SO DAMN TOP TIER STOKED to get to listen to their single OVER AND OVER already! We can't believe we get to occupy the other side of such a killer song. Hearts & Rockets, we will never have enough of you."
Listen to the split single above, and catch both Hearts and Rockets and Zig Zag (and Shrimpwitch!) at the Brunswick Mechanics Institute on Friday, March 20th, for
Psychic Hysteria vs Roolette Records
as part of Brunswick Music Festival - purchase tickets
here
.