Music / Premieres
Premiere:
The Empty Threats - $2
Today we've got the pleasure of premiering the latest single from Adelaide psych powerhouse The Empty Threats - bursting with explosive urgency and a whole heap of energy, '$2' is a blast of manic garage-psych that's as immersive as it is electrifying.
Following up a solid 2019, which saw the band release their debut EP and share stages with some of Australia's best psych-rock groups, The Empty Threats are back with '$2' - an explosion of chaotic psychedelia that seems suitably apocalyptic given the current state of the world.

After opening with a skittering drum beat, '$2' erupts into a frenzy of noise, as fiery guitars soar and snipe while a thunderous rhythm section races underneath. After a moment, the heat dies down and the band shift into a steady groove, just for frontman Stu Patterson to takes the reins, his commanding vocals standing boldly on their own at first before eventually becoming engulfed by the propulsive instrumentation. Just as the track seems to be at its most reckless, things simmer and we drift into a woozy bridge section - however, we're knocked out of the trance as the band kick back in with a vengeance for one more dizzying chorus that shoots the song into the sky.

Speaking about the track, Stu shares "to us, this work represents a constant struggle that unfortunately is still ingrained within Australian culture, that of which is toxic masculinity. The piece reflects our progressive ideology and is expressed through the hard hitting guitar lines, flowing vocal melodies and syncopated clarinet solos."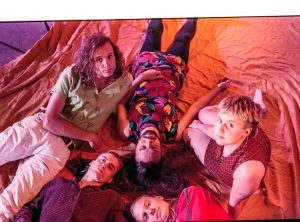 Unfortunately, The Empty Threats' single launch has been postponed, but keep an eye on the band via their socials to find out when you can catch them next.