Music / Features
Track by Track:
Nick Griffith - 7am
Ahead of the release of his debut album, out tomorrow through Dinosaur City Records, we had bedroom-pop mastermind Nick Griffith talk us through the dizzyingly playful world of 7am.
Recognisable as a member of loved Sydney bands Big White, High-tails and Dream Dog, Nick Griffith has spent the better part of the last decade crafting some of Sydney's most charming guitar music. Stepping out on his own for the first time, his debut solo album finds him bouncing between wacky indie-rock, left-field electro and immersive psych-pop, tied together by some hazy lo-fi production and his undeniable charisma.

Opening with the infectious jangle of 'Riding On My Bike', we're instantly hooked as guitars warble next to gleaming synths while Nick's affable vocals cut straight down the middle. However, despite being a killer opening track, it's a little bit of a misdirection - where we might expect Nick to dig deeper into indie-rock territory, he throws a curveball and leans into electronics for the rest of the record.

Next up is 'Dreamweaver', a dose of wide-eyed dance-pop, dense with bright synths and sunny hooks over a jittering backbeat, and 'Back and Forth' is even more thrilling, with an instrumental that wouldn't feel out of place in a computer game mixed with some glorious falsetto vocals.

If the tone has been set so far, it's that the album's main staple is unpredictability - from the tender soft-pop on 'Broken', with its Beach Boys-esque vocal delivery and pensive synth strings, to the electro-pop stomp of 'Fantasy', through to the confusingly mesmerising sound-collage of the title track. And to round out the album, Nick reverts back to his pop-smarts (with some help from Tuffence Meringue) to craft 'I Wanna Dance A Lot', a track that instills us with the same desire thanks to the addictive nature of its synthetic afro-beat backdrop and easy-going hooks.

What holds 7am together is that at the core of each track is a beguiling songwriter who isn't afraid to take risks, which makes listening along as disorientating as it is enjoyable. To dig a little deeper, we had Nick give us the inside scoop on 7am, one track at a time.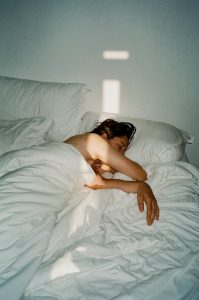 Riding On My Bike

I wrote this song after returning from tour in Europe with Big White. The highlight for me was the day we spent cycling through the streets and countryside of Haarlem, Netherlands. Coming back to Sydney I was inspired to buy a bike and pursue my newfound passion but quickly discovered the attitude of drivers, pedestrians and police towards cyclists was unkind and intolerant whilst the roads felt unsafe and lacked infrastructure. Frustrated, I wrote this song as an anthem for like minded cyclists wanting to break free and be proud as someone as someone actively taking steps (or pedals) towards a healthier environment. 


Dreamweaver


Sitting in a park in the city on a summer evening, I penned the lyrics to this song. I'd had the riff in my head for ages and there were words and melodies coming to mind. It's about asking someone to humour you as you stumble into love.

Back and Forth


Capturing the motion sickness of my early twenties, 'Back and Forth' is the way I travelled, the way I spoke, the way I partied and where I woke. Getting tired, getting sick, getting over it and getting back on it.


Broken


I'd been listening to a lot of Dionne Warwrick and was always moved by how strongly her voice could convey the feeling of helplessness and despair. I think this song draws a lot from that emotion which is very raw and human.
Darling


Sometimes when getting to know one another, we reveal the most shocking parts of ourselves which can be overwhelming. This is me learning to deal with that.

Fantasy


I spent a long time being disappointed in myself that I didn't live up to the expectations of love but it turns out they are all just based on stories and tradition. You gotta build your own world and write your own six part, epic adventure.

7am


Was the time when I finished composing this song. It's a (mostly) instrumental song that uses a lot of samples from the Fairlight CMI (a 1979 sampler/synthesiser/workstation with a computer screen and a keyboard, adopted by the likes of Kate Bush and Peter Gabriel.) It also features a drum machine running through a vocoder and a sample from French band Phoenix.

Drones in the Midnight Sky


I wrote this song after visiting my grandmother in an aged care facility before she passed away. I remember just being confronted by the state she was in and the untold reality of what happens to us if we're lucky enough to make it that far. 

I Wanna Dance A Lot (feat. Tuffence Meringue)


Sophie and I spent a week in Margaret River a couple of years ago. Whilst lazing around the house one day, we wrote this song together. The lyrics were written later but recalling that time where we watched the sunset on Gnarabup Beach and fell asleep watching daytime reruns of Judge Judy. 
Have a listen to
7am
above, and head to
dinosaurcityrecords.bandcamp.com
to purchase the new album on a limited yellow cassette. Catch Nick launching
7am
on Saturday, April 18th, at the Lady Hampshire, with Superchorus and Tuffence Meringue.