Music / Features
Track by Track:
Go Get Mum - Ok Now What
Following the release of their new EP Ok Now What last Friday, we had the pleasure of catching up with Melbourne sweethearts Go Get Mum to find out more about their latest batch of charming jangle-pop goodness.
Go Get Mum have released an EP of exemplary, joyous jangle pop, but it's arrived at an inopportune time, to say the least. Australia and the rest of the world lies amidst an unprecedented modern pandemic and all culture has faded to none. We are locked in our homes, locked away from everything that we once knew to be normal only a mere few weeks ago. It's better, then, to consider the band's newest release as if it had arrived sooner - say, a month or two ago. For if it had, Go Get Mum would have been releasing a collection of upbeat jangle pop that would speak to our generation, detailing all the detailed intricacies of the massive changes and decisions that accompany being in one's 20s.

Their earnest indie has been gaining them an audience even since before 2018's Cripers!, their last EP, and this latest polished release will only reaffirm the faith of their fans. It recalls the work of other Australians like Dick Diver and The Goon Sax and the four-piece - composed of Garry Westmore (guitar, vocals), Izzy Tolhurst (guitar, vocal), Woody Eke (drums) and Sam Chin (bass) - understand each other and what they want to achieve complicitly. In particular, there is a wonderful understanding between lead vocalists Garry and Izzy. This can be heard in songs like the opener 'Veggie Meals' - a sweetly wooing backing vocal interjects Izzy and Garry trading thoughts on a broken relationship: "I miss your face/I miss you giving me shit/I miss your mouth/I miss your outrageous outfits/I miss hanging out/And talking about our feels". Elsewhere on 'Timing's Off', Garry ponders "as we contemplate our status the sky filled with nimbostratus or are they just plain stratus?", before Izzy's voice quickly counters with "I don't know". It's ironic, then, when both form to sing "my timing's off... it's always off".

Ok Now What is able to stand above a lot of its peers due to a wry lyricism that emanates from much of its songs. On 'Freeman', Izzy says to an ex, "when you go please mop the floor because there's four years worth of parties and heartbreak beneath these floors". The cost of living has also often been on the minds of young Australian musicians (recall Courtney Barnett's 'Depreston') and 'Moving Day' is Go Get Mum's consideration of it. What they have on their mind, however, is not the destination but what came before it.

As discussed previously on Trouble Juice, the song is more about the process of letting go than the logistics of moving house. The band sings, "there's memories, a lack of memory, and plenty of wine stains". Meanwhile, 'Adelaide' is a thrumming anthem for that titular place, decrying those that leave it for places like New York. The band acknowledge its limitations ("you can't say much about the nightlife/I guess you've just got to know where to go") before swiftly and cuttingly asking "how much rent do you pay for a place like this in Adelaide?". It's an anthem for a city with a difference, a realistic portrayal of a place that doesn't hide from what it is. The closing song 'We Don't Mind' rounds off the EP with the encompassing theme of big life decisions and happenings. The band maintains that "we've got a couch with your name on it if you wanna stay here/we don't mind if you stay at all".

Ok Now What was released by the excellent Spanish label Meritorio, who have made a habit of supporting Australian bands of note like Girlatones, and this EP will continue that trend. Meritorio gives us this album - as discussed above - at a strange time for musicians. Any music released currently will be judged by the time it arrived within. This is when the album cover for Ok Now What is given pertinence: it features a miniature dog gazing longingly into an outside garden from behind a guarded fence. What if, then, we realise that Go Get Mum's music inhabits both a before and after - that is, it recalls our lives before all of this happened but its cover reminds us that these same things await us when this pandemic comes to eventually (one hopes) pass. We can listen to Go Get Mum and their excellent collection of indie-pop and eagerly await what will follow on the other side.

In the meantime though, to dig a little deeper into Ok Now What, we got in touch with Go Get Mum to get the inside scoop on each of the tracks.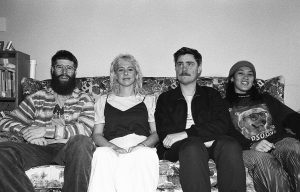 Veggie Meals

This started out as somewhat of a breakup song with the conceit that, wouldn't it be kinda funny to focus on something quite specific/unusual when missing someone, like their vegetarian cooking? And then it moved away from being about a break-up, which makes sense as there's no real romance or sexuality in the lyrics. So now it's more about missing a friendship that no longer has that closeness through whatever reason. 'Veggie Meals' was originally sung from the one perspective, and now it features two voices which helped it morph into a less mopey track and into something that possesses a more mutual and laconic lament. 

Moving Day

Moving house often heralds the end of an era, you're not just letting go of a place, you're letting go to some extent the people you lived with, the area you were in, the stuff you got up to - and that's not easy to leave behind emotionally. So the line in the last chorus changes from "trying to work out the logistics/of getting our stuff out the doorway" to "getting ourselves out the doorway" because really, that's the hard part. We tried to balance all that with these familiar snippets of sharehouse living and hopefully the lines about wine stains and hard-rubbish resonate. I think Trouble Juice described Sam's bass in this song as being 'restless' which I love, it's so good! I think everyone in the band does a great job of lifting this tune actually.

Freeman

This is a pisstake of someone being a bit of a dropkick/party animal when they probably should have moved on from that kind of behaviour, but then the chorus shifts perspective and touches on similar themes to 'Moving Day'. The chorus is more about letting go of a place, and then riding past it years later to find the owners have "subdivided the block". I'm also absolutely shithouse at lead guitar but my 'solo' in this track almost makes me believe I'm not completely inept. Izzy bloody belts this tune out and Woody (drums) is also responsible for the beaut harmonies in the chorus. They managed to take it from a fledgeling track to one of our favourites.

Timing's Off

Probably the most Darren Hanlon inspired song we've written. I like when you can jump into some specificities and paint a picture, in this case, a really awkward breakup conversation taking place on a rainy walk. The title 'Timing's Off' suggests the narrator is pretty shit when it comes to timing these talks, and indeed bringing up the topic of a potential split during a storm on the way to the shops is probably not great. There's this little aside in the song that goes "and as we contemplated our status/the sky filled with nimbusstratus/or are they just plain stratus?" that I really love. I'm not sure anyone else appreciates it though.

Adelaide

A music blogger from Adelaide remarked this song is full of "back-handed compliments" which don't sting because they're delivered sincerely, which is accurate because we do actually love Adelaide. I'm always going to lengths to reassure people that we're not, you know, some smarmy pricks from Melbourne crapping on Adelaide. Having said that, maybe there is just a touch of that? You've got to consider the narrative context though, which is: someone trying to reassure their friend back home that life in Adelaide is actually pretty good, even if the nightlife is a bit of an unknown. I stayed with a friend in the North of Adelaide years ago and found it quite beautiful; everyone lives within a short bike ride of the city and there are these lovely spacious sharehouses near parkland.

We Don't Mind

A slow ballad-type song that's really just about letting your pisshead mate crash on your couch. This song was written at the height of my belief Go Get Mum would successfully launch a genre I would've called 'mate-wave' because so many of our songs were about mates or used the term 'mates'. Maybe through Trouble Juice we can have another go at it? I have to credit Izzy with rescuing this song too, her vocals and harmonies really lift it and give it heaps more flavour and meaning I reckon, and I'm pleasantly surprised we can passionately deliver lines like "we've got spare linen mate" convincingly.
Ok Now What
is out now through Meritorio Records - head to
gogetmum.bandcamp.com
to grab yourself a copy on limited 12" vinyl.