Music / Features
Jimi in the Mazda -
A Chat With Flimsey Lohan
Following the release of Goosetape just six months back, Flimsey Lohan have returned with 'Jimi in the Mazda', a new taste of their hip-hop/jazz blend that moves ferociously with a refreshing flare to their sound. On the afternoon of its release, we caught up with Sean, Rhys and Lindsey to discuss fluid recording techniques, working from home and the importance of living in the moment.
Boasting an unparalleled charm, Flimsey Lohan have occupied a space in Melbourne's rich music scene for almost four years now, with their self-described "Tarantino-esque" blend of hip-hop and jazz. Treading a thin line between these genres, Flimsey Lohan have found their own lane - a niche ignited by the group's long-standing chemistry and musical proficiency. Since 2016, the band have crafted their ethic, holding a strong focus on paradoxical lyricism and wonky grooves. Within this time, Flimsey Lohan have released a series of acclaimed singles, 2018's Dolphin Puppy EP and last year's Goosetape - eight tracks chopped, looped and spun into 26 minutes of ferocity and quiet reflection. Six months on from Goosetape, the band have returned with 'Jimi in the Mazda', a track that leans into the group's urgent sound with expansive production and hypnotic vocals.

Led by paranoia and absurd experience, singer Lindsey Knight gives voice to Flimsey Lohan, hedonistic and poignant in his hindsight. Unafraid of flawed appearances, Lindsey's storytelling depicts a crude underbelly, rapping songs with clever wit that ooze with charisma. Backed by the rhythmic duo of Melbourne nostalgia-poppers Foreign/National, Rhys Grunden and Sean Gage lay a foundational groove for the band - a pair who's playing sounds innate and second nature. Filling in the gaps, keyboardist Ollie Westaway lays synth throughout, varying his tones and adding an essential flavour to Flimsey Lohan's sound. Connected together via Zoom, three quarters of the group speak with me from their own homes - although isolated separately, Rhys, Sean and Lindsey share the same visible sense of pride on the afternoon of the single's release.

"I really like this song, it's the first we've released where I don't feel awkward about it, I feel proud," tells Lindsey. Based in Hawthorn, Lindsey finds a good spot in the sun to frequent his humour and insights on 'Jimi in the Mazda'. "I bought some Pinot to celebrate!" he laughs.

Although separated physically, the group's company feels natural, each member happy and staying busy in their respective isolation. For Lindsey, he's been working on new music with his brother and housemate Max. Finishing up his final semester of university, Rhys has stayed busy from home - painting and "playing more guitar than usual." Although known for his drumming talents in the band, Rhys takes a moment to show us an art piece he's been working on for an upcoming Flimsey single - a process he has enjoyed with each release prior.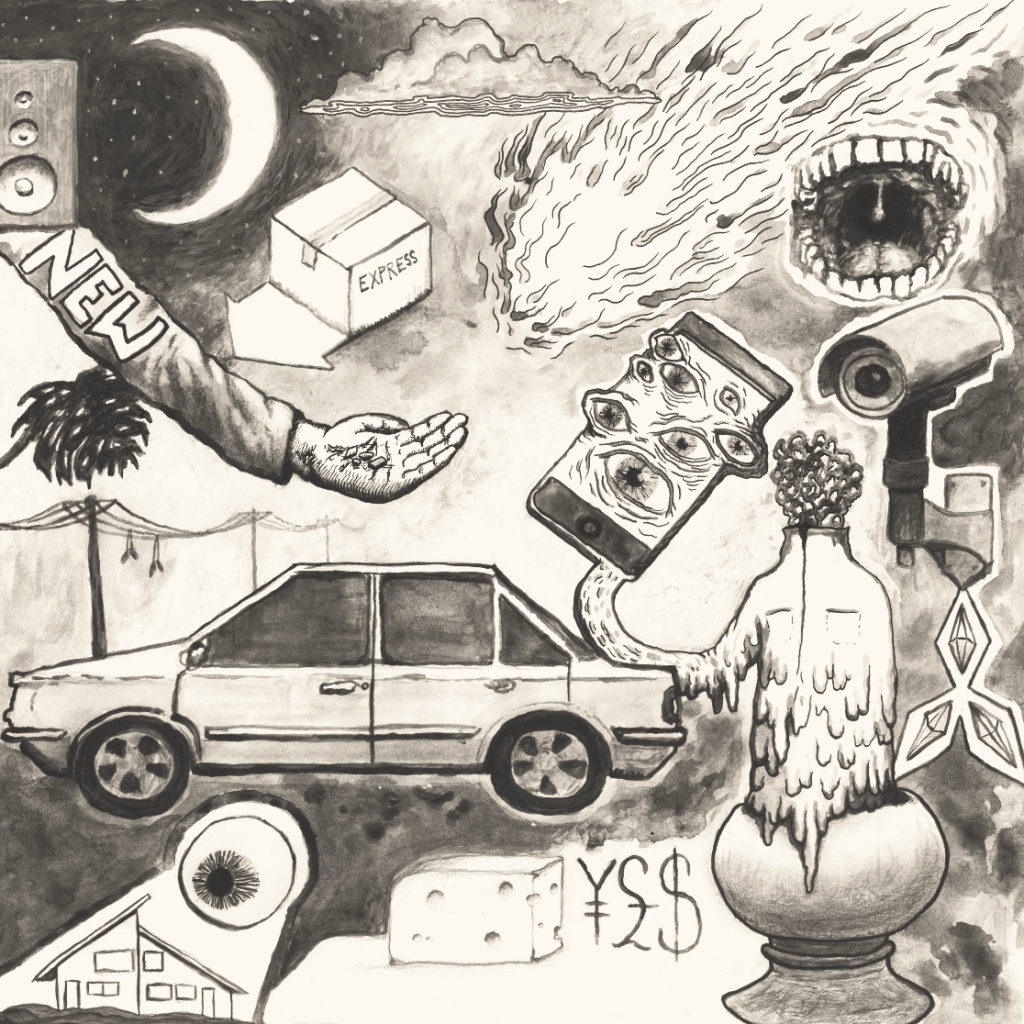 Similarly multifaceted, Sean has been mixing and mastering music from his home in Reservoir, offering his talents to bands across Australia while trying to relax in between. Although scattered across the city, the band continue to share music together, working on ideas and mixing old recordings for upcoming releases. It feels more like a catch up between friends than a serious discussion on their craft.

"We recorded 'Jimi in the Mazda' last August," tells Sean. "We did it at Secret Sounds, it's a small studio with a lot of rehearsal spaces." Sitting both in front of and behind the mixing desk, Sean has helped Flimsey Lohan keep their ethos in house - a notion furthered by Rhys' self-produced artwork for the band. Recording in various houses, chopping up iPhone recordings and overdubs, this hands on approach has allowed the group a fluid recording style, unbound by one place and malleable to each specific track. "It's just a real patchwork in terms of recording," tells Rhys. "This track started off at Secret Sounds, then we did a session at my place, then we finished it off at Sean's," he continues. "We borrowed some more recording equipment from our friend Casey Hartlett. He's got great gear that helped us flesh things out a bit more."

Written amidst the Goosetape sessions, 'Jimi in the Mazda' reflects a more complex spirit for Flimsey Lohan, a feeling that didn't quite align with the spontaneity of Goosetape. "Goosetape sort of happened out of nowhere, and we had a lot of tracks that we knew were going to take a while to finish," says Sean. "We had a lot of demos and rough beats to work with, so we decided to throw it together. I think we did it in about one and a half weeks." "One of the tracks came together the day before we released it haha," adds Rhys. Modest in their efficiency, the group used Goosetape as an expression of their recording capabilities, only playing a handful of the tracks in a live setting - whereas 'Jimi in the Mazda' appears more reflective of the group's powerful performance. "A lot of the tracks on Goosetape felt quite boring and linear live," says Lindsey. "When you listen to them on a mixtape, they're nice as a bunch of ideas, but trying to translate that mood live can be hard."

Although marking a new chapter for the band, 'Jimi in the Mazda' bears the usual footnotes of a Flimsey Lohan track - contemporary, off-kilter jazz with Lindsey's signature lyricism. Discussing reckless adventures through the lens of 'Jimi', Lindsey narrates a memorable experience on the track - escaping from responsibilities and living in the moment. "A lot of the lyrics are about paranoia, and looking back on experiences with hindsight," tells Lindsey. "The chorus is about hanging out and experiencing something without feeling the need to share it with someone. Sometimes in our society you have to always be available - people expect that they can always reach you. I think that's kind of fucked up and just makes people anxious. When I say 'I don't need you to know', it's because I'm not with you right now. There shouldn't be that expectation."

Leaning into these themes, 'Jimi in the Mazda' feels strangely reflective of the way we communicate today, constantly connected through our screens and social media. "With what's going on now, people have to rely on those systems to survive. So I guess the song touches on a lot of the anxieties that come with not being able to switch off," Lindsey continues. Although unintentional, 'Jimi in the Mazda' feels akin to a collective anxiety - an innate pressure to be present and always online. As a taste of what's to come for the group, 'Jimi in the Mazda' showcases all the essential components to Flimsey Lohan's charm - a group confident in their vision and experimental nature.
Listen to 'Jimi in the Mazda' above, and keep up to date with Flimsey Lohan by following them on Facebook.