Music / Features
Growing From Backsliding -
A Chat with Hannah Cameron
A salve for reckless behaviours, Hannah Cameron's newly minted track 'Backsliding' weaves a tale of self-reflection. We dig deeper on a heavier shift in her alt-folk sound, live-streaming, and growth.
It's an instantly broody track. 'Backsliding' begins at a simmer like her previous works but it's a sound that drops gentle acoustic guitar for an introduction lined with methodical percussion and a simple bassline. This move leaves space for Hannah Cameron's opening lyrics "sitting at the bar, on your bed, in your car, haven't moved very far" to roll in. If 'Backsliding' were a Western, like it would so perfectly soundtrack, Cameron is the ranger, alone in her lyrical contemplation and the sauntering instrumentals a landscape that gets grander and more cinematic as the journey goes on. The finale presents a droning instrumental variation on the verses' theme before tapering off like a horizon just out of reach.

This indie-noir gem is the first release of Cameron's since 2018 and, in contrast to previously self-produced tracks, utilises the production talents of Matt Redlich (Husky, Holy Holy, Ball Park Music). The change seems to align with 'Backsliding's leisurely drift towards exploring new sounds. While 'Backsliding' reveals deeper intricacies with each listen, we had the opportunity to chat with Hannah Cameron on the layers building to the release.
TJ: We haven't heard from you since your 2018 LP I Lay Where You Lie. What's been happening in the lead-up to this release?

HC: I took a bit of a break after that release to focus on other projects I'm involved with and to recharge my creative batteries. I was really lucky to have the opportunity to play with The Paper Kites last year for their EU/US tours. I spent about four months overseas with them which was an incredible experience. At the end of 2018, I started a duo project called Brain Romance with Brian Campeau and we spent last year working on an album. I also play with On Diamond and we put out an album last year. So yeah, it's been a really nice year and a bit of playing music with other people. 

You recorded 'Backsliding' a couple of weeks after writing and mentioned how it was good to have Matt Redlich help you step back from rerecording. How did you feel not getting to "perfect" your recordings (sounds pretty bloody perfect to me)? Is this something you'll continue to do with future releases?

I don't know that I necessarily felt like we didn't "perfect" things. I think it was more that I got to step back from being the person to decide which of the takes (and particularly the vocal takes) was the best performance. In the past, I've edited all of my own vocals which mean pouring over every single take and that is a one-way ticket to insanity. You can get so caught up with very minor flaws and miss the big picture. Matt's really good at the big picture. And so yeah, no more editing my own vocals for the foreseeable future.

You also got to record 'Backsliding' at Husky's since-demolished home, The Westbury Hotel. How do you feel about the track holding a part of that community's history now?

That place was incredible and I still can't believe it was demolished. A total tragedy. But it feels special to have had the opportunity to be a part of its history in some small way, particularly given the amount of amazing music that has been created within those walls in recent times. 

Obviously, the track holds a heavier sound than your previous works, perhaps in part due to the influence of your time with On Diamond. What else do you reckon you might explore with your solo project?

Playing in On Diamond has definitely helped me to develop my sound on the electric guitar and has undoubtedly influenced my playing and writing over the years. I think that all of the artists and projects I've been involved with have been influential in their own way. At the moment, I'm finding myself writing with my band in mind which is maybe also why I'm gravitating more towards electric guitars.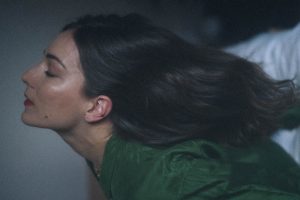 "I want to start a fire, just to feel the burn / You want to start a fire, but be prepared to burn" - lines like these in 'Backsliding' sound like warnings, but to whom?

I wrote 'Backsliding' as a bit of a pep talk to myself. I suppose you could think of it as a warning as well haha. It was basically me acknowledging that I was about to make a bad decision and trying to talk myself out of it. 

I love the sliding string section you've got towards the end of the track, the way it weaves and builds with the rest of the instruments before drifting off. It really does prompt a cinematic, western flick feel. Was that the intention here?

That was a bit of Matt Redlich genius. I actually can't remember if that was our intention - It really just started with that melody which definitely has a certain cinematic feel about it. 

The track is raking in love all over the internet and airwaves but with the current climate, I have to ask how you've adapted to the loss of live performance. You joined in on the fun with Isol-Aid Festival, of course!

Yeah, the live streaming thing has been a nice outlet. Isol-Aid was really lovely and I actually did feel just as nervous for that set as I would have for a real show. I got the same post-show buzz as well! I do miss live performance but I'm actually also enjoying the opportunity to slow down and focus on writing and practice. I was really lucky to play so many live shows last year - I almost feel like I got a good fix and that's allowing me to appreciate the downtime. 

So I don't leave you on what can be a downer of a question, what's the brightest thing you've seen or experienced since the release of 'Backsliding'?

I feel like I've seen and experienced so many beautiful things recently. Watching people find ways to make art and be creative in isolation has been very inspiring. And long phone chats with friends have been a great source of joy. Having bags of pastries delivered by friends on my birthday was also a definite highlight. 
Set out on a journey with Hannah and watch the new clip for 'Backsliding' above, created entirely via Skype by
@re._stacks
.