Music / Features
New City, New Sound, Same Crowd -
A chat with Mockingbird
After years of relentless touring and releasing five acclaimed records with her band Punčke, Croatian born singer-songwriter Lucija Ivšič made the difficult decision to relocate to Melbourne and start fresh - not with wide eyed dreams of fame and stardom, but to "reinvent myself, redefine life goals and see the world from a different perspective".

However, with music in her veins, it wasn't long before she'd also found a new musical persona, taking on the whimsical moniker Mockingbird. Off the back of the release of her debut single 'Undone', a dreamy dose of tranquil indie-rock, we had the chance to chat with Lucija about the new project.
In the online age - within a digital world almost as functional as our living, breathing reality - does a change of physical location still impact the reach of your music? With the internet taking over the industry's means of distribution and promotion, artists from all corners of the globe have a chance of reaching an international audience.

In the same way, the modern music landscape has made it completely natural for a group's sound to elude their geographical location - Newtown's DMA's are making beautiful Brit-pop, Melbourne's King Gizzard and The Lizard Wizard have developed a totally unique take on German Krautrock and Sydney's ONEFOUR make culturally relevant and politically biting UK Drill. 

Does that mean an artist can move and set-up shop elsewhere, whether it be a career move or simply for a change of environment? Well, Lucija definitely hopes so, because after more than a decade fronting Croatian rock pioneers Punčke, she has moved to Melbourne and launched Mockingbird.

We chatted with Lucija and find out a little bit about her experiences back home, as well as adapting to life and music on the other side of the planet.
TJ: How are you doing? How's an average day in isolation been for you?

L: I am good! I do feel guilty saying this - but I actually needed this. I've been playing lots of music, discovering the Australian music scene, watching 90 Days Fiancé and working (let's be real)! Days are passing by pretty fast. Apart from me pushing out my own stuff, a lot of artists that I manage through Cereal are busy with new releases so I haven't been bored a second.
Lucija established herself within the Croatian music scene early, founding the countries first ever all-girl band at age 14. The band Punčke went on to achieve almost all there is to be achieved within the Croatian touring circuit - releasing multiple acclaimed records and playing gigs all over the country and across the continent, playing over 350 shows and touring with the likes of Queens of the Stone Age. Beyond that she's also created her own international booking label
Cereal Booking
, which she describes as "a small music agency with no home address and no working hours". Lucija continues to run the label from her new home, representing an eclectic array of artists from all over the world including Algiers (UK/US), Sytë (Kosovo) and Haiku Garden (Slovenia), again demonstrating the global reach and interconnectedness of music in the modern age.
Firstly, I'm loving the new track! Is it an indicator of a project to come?

It is a hint, but not entirely accurate. I have an entire EP ready but all the songs are so different from each other that I had a lot of struggle choosing the first one. 'Undone' was picked out because it's the first one I wrote since I moved to Australia, it represents what I've been going through from the moment I left everything back home and it's completely different from the stuff I've been writing for Punčke. I really needed that song to let the sad demons out.

I find your story really fascinating. It's not often we get an opportunity to chat with a 'new' artist that's already toured with the likes of Queens of the Stone Age! What was the driving factor in leaving home in Croatia to start fresh here in Melbourne?

Hehe, I feel funny as well. And I think I am in a bit of an identity crisis mode... It's harder than I thought it would be. It kind of felt like I hit the ceiling in Croatia. I was 120% invested in the art scene but not actually getting back what I really needed. Except for a lot of frustration. It was like being in a bad loop and constantly fighting the windmills. At that point, I could only see this major life change as something that can help me reinvent myself, redefine life goals and see the world from a different perspective. I know that I can always go back if this turns out to be a mistake, but I really had to see for myself what living abroad looks like and can I cope with it. I still don't have the answers, but I feel like I am getting there.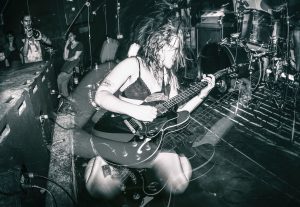 During her ten year run with Punčke, the band explored a wide array of rock styles leaning into the dark and heavy. With hints of post-punk, punk, grunge and alt-rock, and palpable influence from acts like Nirvana, Sonic Youth, Pixies and of course, Queens of the Stone Age themselves. Following a long history of band members turned solo, Lucija's new track indicates a significant shift in sound and an ability to take on personal, introspective themes. Having been boxed-in to a certain expectation within Croatia and Punčke, and after battling the media for years to educate against the misogynistic views of an all-female band, 'Undone' overflows with the freedom and liberation granted by a new name and location.


Leaving Croatia sadly meant splitting with Punčke, the first all-female Croatian band! Was being the first of its kind something you were conscious of when Punčke began and how did the band come to be in the first place?

When I was 14, my best mate Ruby and I spent our free time in her basement joking around with instruments. We didn't really know how to play anything but a friend of ours asked us to play a gig and I said yes. At that moment - we weren't a band, we didn't have a name nor a singer and we didn't have ANY songs. We invited our other best friend to sing, so her brother in law suggested that we call ourselves Punčke (Slovenian word for little girls) because we needed a name for the poster. It was that simple! So I would say that it was an unintentionally formed all-girl band whose members only cared about one thing - creating honest and spontaneous music.

The media, on the other hand, really pushed us into this all-girl category and it was insane - we would be asked questions like "how it is to be in a girl band?" or "do you fight a lot when you're about to get your period?" It was freaking me out! Did they ask other all-male bands "how is it to be in a boy band?" Of course not.

Funny thing is that there was always a lot of mixed feelings and discussions about Punčke being a feminist band and it gave me a lot of headaches... I never wanted to categorise us in anyway (gender or genre-wise, etc you name it) and the only thing I wanted for us it to get our music out there and be accepted. We were discriminated against and I received a lot of hate mail. Especially when the word was out about us supporting QOTSA on their European dates.

I believe that we did make a change and showed them that girls can rock and have 'cojones' as well as the boys. Situation changed in the past 13 years, there's a lot of girls rocking either as solo artists or in bands and it's a more normal thing. FINALLY! It was a rough path and I can see our mistakes now but we kind of had to learn it the hard way.

Your dreamy new track 'Undone' under the Mockingbird moniker is written in beautifully poetic English. Contrasting with the Croatian I sadly can't understand (but definitely still feel the energy) of your past work. How does writing in English and on the other side of the world affect your songwriting process?

It's a bit harder and I would never thought that I would actually miss all those Croatian words like I do now. It was much easier to hit the right note and be 100% honest. Now that I'm writing in English - it takes more time to find the right word to describe and share what I'm actually feeling. As you said - you can't understand what I'm singing about with Punčke but you can feel the energy - that's exactly what I want to have with Mockingbird - not everything is in the lyrics... I believe most of it is in the energy around it.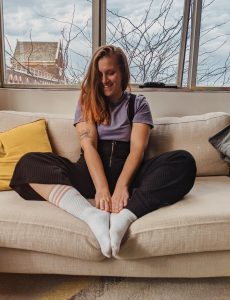 I'm not going to lie; my knowledge of Croatian bands is pretty poor and doesn't go much further than Azra and Haustor. Are there any groups or artists you'd recommend checking out to get an idea of the scene?

We have plenty of good bands! Depending on what you like, but start with Nemanja, Žen, Vlasta Popić, Eke Buba, ###, Stidnice, Lovely Quinces and you'll get a better insight. A friend from Melbourne told me that we have quite a lot of good bands for a small country - I guess I had to move out of the country to be able to see that.



Lucija has been kind enough to share this
incredible playlist
, featuring some of her favourites from the Croatian scene.



It seems that we are slowly moving out of the worst of the lockdown era. Do you have any plans post-isolation (music related or just anything you're excited about when freedom returns)?

Getting drunk at Empress of China with friends while eating dumplings and green beans - that's my plan! I did plan to book a tour through Asia and the US but I guess that's impossible now... I have a list of things to do and all of them are related to live shows and music...so as soon as I know how will this work out, I will just have to adjust and go with the flow. OH one important thing - I actually want to do a video for my next single, so in case you know some good local indie directors - please let me know!

Cheers again, hope all is going well! and good luck with everything!

Thanks for this, it was a pleasure! Cheers to you too and take care <3
Listen to 'Undone' above, and keep up with Mockingbird by following her on Facebook.