Music / Premieres
Premiere:
Witching Hour - Colourblind
Today we're delighted to be premiering the new single from Melbourne electro-pop artist Witching Hour - both ominous and sweet, 'Colourblind' is an enchanting track that masterfully messes with our perception of colour as it twists between dark and light.
Following on from the release of 'The Spell' late last year, Claire Quartz, the mastermind behind Witching Hour, is back with 'Colourblind' - a new taste of her dark blend of electro, emo and alternative pop. On 'Colourblind', her self-made genre descriptors - 'candy goth' or 'bubblegum witch' - finally make sense, as the track highlights both Claire's innocent and sinful sides, a strong contrast to the playfulness of 'The Spell.'

Reeling in its listeners like a siren, 'Colourblind' opens with some eerie acapella vocals, before the track expands with heavy synth pulsations and a minimal electro-pop backbeat. As the song progresses, new instrumental elements continually blend and layer on top of each other - which not only keeps listeners on their toes but allows the lyrics to remain a consistent focus while the backing fluctuates for the duration of the track.

Although the instrumentation is dark and sinister, Claire's vocals float on top, innocent and bubbly and even joined by an ethereal choir at times, creating a juxtaposition that aligns with the track's overarching themes - illusion and deception. Claire explains that the track explores the ups and downs of modern dating and the realities of "dishonest, manipulative relationships, with the lyrics drawn from an amalgamation of my own experiences." Similarly, as Claire plays into the idea of someone being 'Colourblind' in a relationship, the track subtly references almost every colour of the rainbow - but with clever use of homophones on lines like "left me on red" and "blue a kiss", we're just as easily tricked into experiencing the track without the clarity of colour.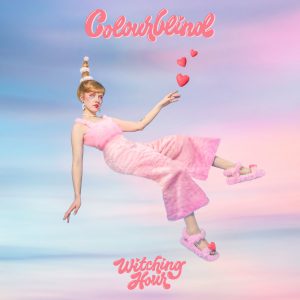 To accompany the release of 'Colourblind', Witching Hour have released a limited run of zines - get a copy
here
.