Music / Premieres
Video Premiere:
Joscelyn Wynter - Red Drops, Black Wall
We're in for a treat today with the premiere of electrifying new single and video 'Red Drops, Black Wall' from songwriter, producer and multi-instrumentalist Joscelyn Wynter.
Wanderlust is peaking at the moment. Lucky for us we can travel vicariously to the icy cool Brooklyn NYC rooftop where singer-songwriter Joscelyn Wynter's new video for 'Red Drops, Black Wall' was shot. The wind and traffic noise do nothing to shake Wynter's steadfast delivery of this frenetic folk track, performed live and wild against the elements. There's an excitement in the air, a moment seemingly ripe with change.

Talking us through the day's process with filmmaker and editor Nick Noyes, Joscelyn shares "we collaborated to shoot this video one afternoon on my roof... As we were finishing the takes it started raining, and this last take we got just before the rain broke out. It was a special moment."

The song, written during her three months living and busking in New York, was inspired by the artist discovering her own purpose and voice - and what a voice! Joscelyn soars across highs and lows effortlessly, all the while deftly and energetically strumming her unplugged steel string acoustic. Echoes of her music heroes - Jeff Buckley and Tamino are noticeable, alongside a hint of Laura Marling. She flirts with a middle eastern vocal scale at points, flinging lilting lyrics into Brooklyn's airwaves and staring down the camera with grinning abandon. It's clear she enjoyed the collaborative experience, telling us "Nick is a wonderful kind soul with an incredible artistic vision powered by his immense dedication as a filmmaker. It was a joy to bring this story to life with him."

Tasmanian born, Melbourne based, Wynter is a well-travelled 24 year old who has been practicing her songwriting craft since age 14. After traversing the globe until 2019 - living and studying in Berlin and Chile - the songwriter and poet returned and resolved to live a musician's life, commencing a Music Production degree. Chatting with us, Joscelyn shared her passion for music as a revolutionary force of resistance, change and connection, and with her newly acquired production knowledge, she's currently putting together her eagerly awaited debut album in her home studio. We'll keep our ears at the ready for this one.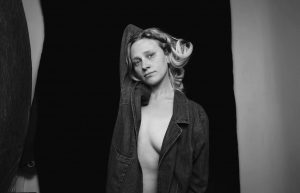 Watch the clip for 'Red Drops, Black Wall' above, and keep up to date with Joscelyn by following her socials.