Music / Premieres
Premiere:
Elsie Lange - Adelaide
After years playing in other projects, local guitar-pop heroine Elsie Lange has finally turned the focus onto her own music, and today we've been treated to a first taste of her forthcoming EP with the gloriously wistful 'Adelaide'.
More than just a recognisable face from around town, Elsie Lange has spent the last half decade in a bunch of loved local bands - be that fronting jangle-pop favourites pting, backing soft-pop heartbreaker Elizabeth in her expansive live band or wielding a spluttering synthesiser in long-lost punk group LVIV. She's always been performing solo in the background though, and now as her other responsibilities slow down, she's finally found time to give her own music her full attention - which we're thrilled to announce will be culminating in the release of her debut solo EP Talk To Me in August.

Describing the track as an "homage to all the gorgeous and goofy love songs we grow up listening to", it makes sense that 'Adelaide' feels as playful as it is earnestly authentic. Led by Elsie's velvety voice, which has always been marked with an ability to sound graceful and charming at once, 'Adelaide' materialises around us with a swinging 60's groove while mild guitars twinkle and chime alongside her rich vocals. Clearly in no hurry, the track lilts onwards comfortably, resisting the temptation to expand into more grandiose territory than it needs - instead, we're immersed by the sleepy instrumentation, and it's easy to be whisked away by Elsie's endearing storytelling and starry-eyed charisma.

'Adelaide' feels a bit like a warming conversation with an old friend, so with that in mind, we caught up with Elsie to find out all about it.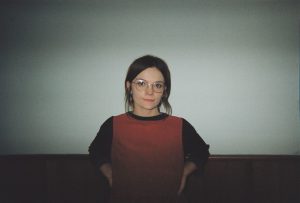 TJ: Hey Elsie, we've been lucky enough to get to know you in different projects over the last few years, but for the unacquainted, want to tell us a bit about yourself?

EL: Howdy! I'm a folk-pop singer/songwriter from Melbourne, originally from Alice Springs. A lot of what I write is about that distance and grappling with it. I like to laugh at myself a lot, I write some pretty goofy stuff for that reason. This feels a little bit like writing a Tinder bio so I'm going to lean into it: hey, I love cheese. My favourite is Fromager d'Affinois.
'Adelaide' is a pretty charming way to introduce your solo music to the world - what's the story behind the track?
I had been listening to 'Strangers' by The Kinks on repeat for a few days over one Christmas in Adelaide, where my family heads every year to meet in the middle. I wrote it in my aunty Jude's spare room, reminiscing and embellishing a beautiful Christmas friendship. It's a bit of a fictional homage to all those gorgeous and goofy love songs we grow up listening to.
You've fronted pting for the last few years, but earlier this year you announced the band would be coming to an end. How does it feel putting the focus on your own solo music now? Did your process change much on your upcoming EP?
It was sad to say goodbye to pting, because it was always a project where I could write jangly pop songs and jump around without fear of being too vulnerable. Or too sooky. Putting the focus on my solo music is scary and exciting. My solo songs mean a lot to me.

My process was quite different. In pting, Yura, Rhys, Ben and I would get together here and there and throw bits in, new ideas or parts. For this EP, I wrote these songs alone, usually when I was a bit sad and feeling tender. I worked with Calum Newton (legend) over a few months to make these songs what they are, and Dan Oke (also, legend) came and helped record drums for them. Cal and I would go away from a session and I'd think of something new, or he would. Sometimes we'd just go "how about this?!" and it'd make the cut. It was such a joyful time to make it.
Releasing new music can feel a little strange at the moment, given the current state of the world, but you've decided to move ahead with the release and are generously donating all your profits from Bandcamp to the National Aboriginal and Torres Strait Islander Legal Services - tell us a bit about this decision and why an organisation like NATSILS is close to your heart.
Yeah, releasing music right now does feel strange. People are coming face to face with injustices that have existed forever and grappling with that discomfort. It feels wrong to self-promote, to take up space on platforms that are right now (and should always be) elevating black voices and messaging, so I don't feel generous. I feel like it's the bare minimum. I wrote and recorded my songs on stolen Kaurna and Wurundjeri lands. It's important to remind people to pay the rent.
The National Aboriginal and Torres Strait Islander Legal Services (NATSILS) are the national peak body advocating for First Nations people within the justice system. It is important to fund organisations that help to support First Nations people inside a system that inherently disadvantages and incarcerates them. Our national shame is that
437 First Nations people have died in police custody since 1991
, but no one has ever been convicted of killing those people. Silence on this issue is violence.
Outside of your music making, you've recently begun working on an excellent podcast series that focuses on other artist's writing, could you tell us a bit about your own lyric writing process?
My lyric writing process is a bit all over the shop. Generally, I sit down with my guitar and play a chord progression I've just written in front of an empty word document and try to find the right word or phrase for what I'm feeling. I'll mould the song around that phrase. I rhyme a lot. I also look at my bookshelf a lot for inspiration, either in titles or in a novel's sentiment. I like gentle turns of phrase, I suppose.
Often we wrap up these interviews by asking what you've got planned for the next part of the year, but given how consistently rough 2020 has been so far, that question feels a little misguided. So instead, what are you hopeful for over the next six months?
It's all a bit up in the air isn't it! I'm just hopeful that my songs bring people some joy or something. I'd love to go interstate to play them, but I'm not sure how that will play out just yet. For now, I'm just looking forward to sinking an afternoon beer at The Retreat before playing a quiet little set in the front bar and then slinking off home to bed. I'm hopeful that music picks up again for everyone's sake. It brings us all together.