Music / Premieres
Video Premiere:
The Hunter Express - There Was Love
Today we have the pleasure of premiering the latest single from hazy folk mastermind The Hunter Express - a step forward from last year's Should Have Come On Sunday, 'There Was Love' further establishes Brad Ellis' deft songwriting craft as it blurs dreamily between ethereal folk and delicate psychedelia.
'There Was Love' gently opens with layers of swirling, absorbent sounds - it's unclear exactly what we're listening to but we're instantly immersed in the soundscape, before Brad Ellis' tender vocals emerge from the haze. With his voice hushed and intimate, there's something immediately wistful about 'There Was Love', yet despite Ellis sharing that in its essence "it is a love song", the track avoids feeling overly-sentimental. Instead, perhaps due to the stark groove that ambles alongside Brad's vocals while the twinkling guitars and enthralling synths establish a murky backdrop, the track feels more like a fleeting moment in time. As 'There Was Love' plays itself out, the band crucially resist the urge to have the song sprawl or expand, allowing the listener to lose themselves in the ephemeral nature of the track and to bathe in its warming glow before it drifts away.

The accompanying clip does well to match the track's subtle feel, with its soft colours and transient visuals, and although it was created from Brad's home with help from a City of Melbourne COVID-19 Grant, its gentle atmosphere means this largely goes unnoticed. Like most of us, many of The Hunter Express' plans for 2020 were thrown by the pandemic, but the release of 'There Was Love' now points towards a light at the end of the tunnel for the band. Speaking about the current circumstances, Brad had to say "now the time really does feel right and the chance to release new music is so exciting. I feel this new song is a beautiful picture of what's to come from Hunter Express this year."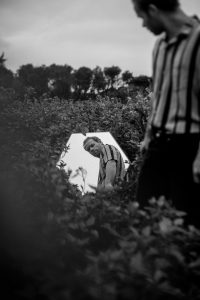 Check out the new clip for 'There Was Love' above, and keep up to date with The Hunter Express by following them below.