Music / Premieres
Video Premiere:
Scurvylicious - Wiser
Alt-country turned rock 'n' roll locals Scurvylicious have kicked things up a notch with their latest single 'Wiser' - a dreamy pre-summer anthem guaranteed to send you into a head nodding, foot tapping trance before you even clock what's happening.
Wind down your windows and press play - Scurvylicious' latest release has the guitar-rock four-piece transporting us to a warmer climate and a simpler time. Equally intoxicating is the accompanying film clip of freshly edited super 8 footage, featuring a sun-soaked early 90's camping trip - courtesy of Daylesford filmmaker Brendan Murray.

'Wiser' enthrals from the first strum. The track opens with tranquil duelling guitars in 6/8, throwing dissonant lo-fi chorus echoes that awaken childhood memories of beachside holidays - before the drums turn and kick the song into a new gear, leading to the lyrical declaration "I'm wiser today!". It's a bold assertion, especially so as the track picks up a driving groove, but delivered by laid-back vocals that sit perfectly in the mix amongst subtle harmony highlights, it's more joyous than forceful.

Band members George Rowland, Paddy McGrath-Lester, Pat Murray and Alec Cimera let us in on the motivation behind 'Wiser', first penned in 2014: "It's always been a growing up song, about wanting to make better decisions and believing that we do across time... taking steps backwards at times and being caught up in distractions, even amusement at ourselves... then admiring our own wisdom".

The video for 'Wiser' is a clever addition, meshing seamlessly with the song's captivating guitar riffs and sing-along worthy lyrics. The listener can feast their eyes on idyllic road tripping and camping scenes wrapped up in an amusing narrative. The footage is peppered with nostalgic Australian 90s heyday boxy automobiles, boats and billy cans. It gets weird about halfway through when silent film slides add a plot line anchored in blokey silliness. Highlights include a montage of mens' facial hair close ups, which follows the sublime instrumental climax at 3:20.

The production of this release is seamless, with acclaimed producer Dougal Shaw (Dr Sure's Unusual Practice, Cash Savage And The Last Drinks) at the helm. The track was recorded at Marthouse Records in Brunswick and mastered by Sean Walker at the Australian Institute of Music in Sydney.

Following their 2019 release 'More or Less', Scurvylicious' signature sound is taking on a more structured form with 'Wiser'. The band, who hail from Victoria's central highlands, have been playing live around Melbourne/Naarm and surrounds since 2013. They've been drip feeding us delicious morsels of recordings while focusing on building their intricate and engaging live shows. As Melbourne/Naarm's music scene returns to life, we look forward to seeing the likes of S-licious up on stage again for a live rendition of this grooving track.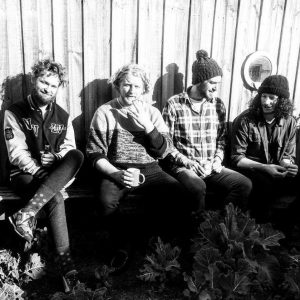 Take a trip with 'Wiser', and keep up to date with Scurvylicious by following them below.