Music / Premieres
Premiere:
Moth - Jealousy
Ahead of the release of their debut 7" EP next Friday via Marthouse Records, emerging weirdos Moth have treated us to a sneak preview of 'Jealousy', another cut of their haphazard noise-punk.
Despite being powered by the familiar chug of band leader Darcy Berry's other project Gonzo, 'Jealousy' is quick to divert expectations, as we're instantly immersed amongst swarms of nagging guitar while synthesisers splutter and spiral. Where 'Ritual', the first taste of Moth's forthcoming EP Machine Nation, had Bez's agitated yelp at the helm, this time around keys player Veeka Nazarova holds down vocal duties - her icy delivery cutting through the pulsating instrumentation as it twists and turns. Sung entirely in Veeka's native language of Russian, her vocals tangle with the track's turbo stomp to make things all the more disorientating as 'Jealousy' progresses, before the tension completely amounts and the song cuts itself off.

With the track's turbulent atmosphere coupled by Veeka's enigmatic vocal performance, it's easy to expect the track's themes to be just as chaotic. Instead, as Veeka shares, 'Jealousy' is anchored in the real world as she examines a darker edge of humanity. She explains, "'Jealousy' is about being jealous, not in a romantic way, but rather envying one's success and happiness. It describes the dark side of someone who is jealous and basically eating themselves from the inside; falling into the deep hole of being jealous and deteriorating as a human being. There are no such things as 'good' or 'bad' jealousy and the song is just a little reminder of this."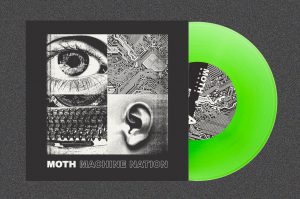 Machine Nation is set to release next Friday, July 3rd, via Marthouse Records - head to Bandcamp to pre-order the EP on limited edition fluorescent green vinyl.