Music / Features
Track by Track:
Leah Senior - The Passing Scene
One moment whimsical, the next introspective and pensive, Leah Senior's third album The Passing Scene is an unassuming triumph of a record that's themes of living life and the world changing around us make it the sort of album to sink deeply into.

Now that it's almost two weeks old, we had Leah take us through The Passing Scene, and what ideas went into the blossoming of each of its eleven tracks.
Built around a number of reoccurring themes of change, introspection and a nervousness about the state of the world, The Passing Scene achieves a timeless musicality, whilst remaining incredibly relevant. While the more band-orientated approach makes the album a considerably more varied and unpredictable assortment of arrangements than Leah Senior's previous two releases, it is Leah's strong imagery and masterful lyricism around these themes that ties the whole thing together.

While songs like 'Dress Up A Heart' and the album's titular track hang off Leah's hypnotic vocal quality, opener 'Evergreen' and later album highlight 'Dreary Day' have Leah drifting into more playful, folk-pop territory. Guitar driven singles 'With or Without Me' and 'Graves' even head in a folk-rock direction for the first time we've heard in Leah's discography. However, through its profound lyricism and conceptual awareness, The Passing Scene never feels disjointed. Rather, you'll find yourself sinking further and further into it.

As album closer 'Time Traveller' simmers and builds to what feels only a few degrees off boiling over, Leah's anxieties about the world come to a head and The Passing Scene reaches a late thematic peak that you'll find will inform the way you go back and listen to the album a second time (which I did pretty quickly).

To go a little deeper into each track, we've asked Leah to stop by TJ and enlighten us on how The Passing Scene came together.
Evergreen

I grew up playing piano, mostly classical. More recently, I have started writing songs on piano. This has opened up my musical style - a bit more bop bop bop. Sometimes I feel like an evergreen tree, watching everyone around me go through changes, seeing their leaves turn to gold and wondering when I will also come into myself. By "green" I mean a feeling of naivety or stagnation. Autumn is my favourite season, there's a different quality to the light and a fragility in all the changes.


With Or Without Me

I like to write poetry. Like any art practice it is rewarding and frustrating. Sometimes it seems crazy slaving over a sentence, trying to distill what a certain time of evening says to you. Nature has its own language and it is no less powerful if you can't pin it down into a verse. This song is about accepting that my words will disappear, we will all disappear, yet the horizon will continue, the rivers will keep flowing and will maybe be better off without us.

Graves

I grew up idolising the rockstars of the past. This song reminds me of being a teenager and closing the curtains, turning on a lamp and listening to 'Waterloo Sunset' by The Kinks, feeling like nothing could phase me.


Dress Up A Heart

This song is about passion disappearing. The final line is a reference to a scene from my favourite movie, the 60s cult classic Harold and Maude: "Birds fly away against the blue sky. You say that they're only seagulls but I like to watch them fly".

The Passing Scene

Title track off the album. This song is about tuning into nature, accepting what Heraclitus told us "the only constant in life is change". I have been trying to get better at not holding to everything so tightly.

Bug In A Bath

Same themes, sillier disposition. One of the lyrics is "waiting for the puzzle to fall down into place, God forgot to cut the pieces into perfect shapes". We have to continuously work at accepting imperfection and our very mortal existence.

Dreary Day

Here we go again, self acceptance do da doo doo dooo you can only be you.


Ocean Quilt Lady

This album marks a shift in my writing practice. More play, less anguish. Try to relax your mind and see who turns up. The ocean quilt lady is wandering up the coast, summoning the clouds, shells singing in her wake.

There's No Fish

This song can be taken literally or metaphorically. The thought of a world without birds singing breaks my heart. They have flown their way into nearly every song on this album. This song was inspired by a trip to Lake Eildon during fire season. A picnic on the cracked banks of a nearly completely dried up lake, one man on a jet ski flying through the smoke with a cigarette hanging from his lips.

Jesus Turned Into A Bird

This song is about staying up late, watching the sun rise and feeling profoundly disconnected from the natural world.

Time Traveller

I wrote this song about my niece Eleanor, worrying about the kind of world that she will grow up in. The lyric "see the smoke hanging over the city" turned into a reality this summer.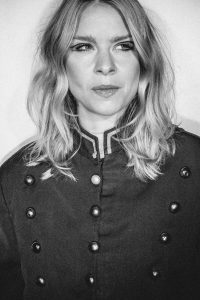 Leah Senior's third album
The Passing Scene
is out everywhere through
Flightless Records
now - purchase the record on limited vinyl
here
.