Music / Premieres
Premiere:
John Tennyson - Forgotten Dreams
On his brand new EP Forgotten Dreams, Melbourne-based folk-rock storyteller John Tennyson offers seven outstanding performances that either cut you open, prod your wounds, or call for closure.
John Tennyson is somebody who is currently breathing in a formidable expanse of human experiences, in order to refine and relate to the people of the turbulent 2020's. From violence, anger, and helpless desperation - to spiritual perseverance, catharsis, tender love and care, and half-tired hopefulness; John Tennyson is here and he has the flame of life in his art! 

The first three songs on Forgotten Dreams have a production that presents warmth, dissonance and excited optimism respectively. On 'Details', the opening track, Tennyson chants "you ain't nothin but a child like me," his invigorating performance introducing the EP with emphasis on the sadness and confusion that can come with human relationships and the loss of love.

Next up, 'Harry Bell' is a true story of a man who committed murder-suicide several years ago. It is extremely disturbing. Whatever the response one may have to this song, there is no doubt that this recording has an excellent arrangement and delivery that sets John Tennyson apart from the typical storyteller. The defenceless warble in Tennyson's voice pushes the story forward into a tragic climax that sucks the listener into darkness. 

Being quite a heavenly sounding arrangement like 'Details', 'There Will Be A Time' starts with a similar colour, but hits the listener like an epiphanic swan taking off suddenly from a peaceful garden pond. The swan metaphor continues; it then finds another peaceful pond to rest upon, before taking flight into the moonlit evening. "Let every broken back rise up straight and tall... where the moon shines, let it shine on me" -  Tennyson's music does not tend to separate from spiritual struggle and triumph, and that is why he makes waves.  

The final four songs of Forgotten Dreams were recorded with just one microphone in a room, as opposed to the fuller opening tracks. However, with the quality of the songs centred on the sheer animal magnetism of Tennyson, they could have been recorded in your grandma's kitchen and still would have turned out great. In conversation with Muscle Shoals Records owner Marsden Williams, John shares "I just don't feel a need to conform to the culture... the culture has a need for pristine sound... but I have listened to music from throughout the century and there's a spirit that comes through regardless of even being out of tune." On these following tracks, non-comformity has never sounded so rejuvenating.

One song that truly marks John Tennyson as someone who never ceases to outdo himself is 'Ball And Chain'. The absolute power in his voice throws forth a character who seems to be either possessed, warning of danger, or consoling a helpless subordinate - maybe one could say all three. If you listen very carefully to the song, there seems to be a small child's voice in the distance at times. Whatever was happening during the recording of 'Ball And Chain', this little voice adds a late-afternoon, family-neighbourhood soundscape to the background of a man's distorted and chilling remarks. 

If one were to give some sort of overall theme to John Tennyson's EP, it would be a vicious storm that leaves behind a pillar of love amongst the rubble of calm despair. The varying shades in Forgotten Dreams form a strong interdependence between the songs, subsequently stepping up the EP's value as a whole, and broadening the horizon around John Tennyson.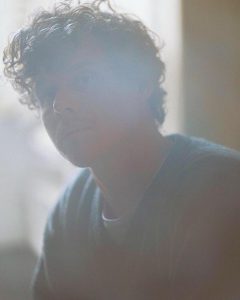 Forgotten Dreams
is out today in all the usual places - tune in
here
.