Music / Features
They Made Me Do It -
Talking Influences with RAAVE TAPES
Off the back of the release of their explosive single 'Red Flag' earlier this year, we got in touch with Newcastle dance-rockers RAAVE TAPES to find out what inspired the latest blast of their electronically charged punk.
Following on from the release of their 2019 EP dancing because I'm sad, 'Red Flag' came in time to round out a massive 12 months for the Novocastrian duo. Over the second half of 2019, their unique brand of dance-rock saw the duo grow from strength to strength - with a string of well-received singles leading into sold out hometown shows and a huge summer of festival slots. Like many, this momentum came to a sudden halt earlier this year thanks to COVID-19, however the release of 'Red Flag' in March proved even a global pandemic couldn't smother their charged party-punk.

Powered by a thunderous groove alongside dark, pulsating synths and glitchy looped beats, 'Red Flag' instantly reveals a new side to the duo, the track largely forgoing the frantic guitar-work that has defined RAAVE TAPES' earlier music. However, 'Red Flag' remains just as thrilling, and as Joab Eastley's signature shouts tangle with Lindsay O'Connell's soaring vocals, the track feels as explosive as it is enigmatic. While the instrumental itself is wild and frantic, the track's message is stern - tackling the issue of unwanted advances that can ruin a night out. Thematically, it's far more serious than the song's exciting atmosphere first reveals, but backed by such intense energy and delivered by the duo's chaotic duelling vocals, it's a powerful message that importantly gets forced home.

To dig a bit deeper into RAAVE TAPES' transforming sound, we had the band fill us in on the sonic influences that inspired the track.


Fletcher Matthews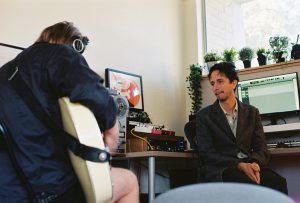 If the premise of this article is to uncover exactly who made us do it, let's just cut straight to the chase. The finger should be pointed squarely at our friend, producer and pseudo-mentor Fletcher Matthews. The jig is up. Game over. Thanks for coming. Case closed. End of article.

Fletch has been a long-time friend of ours, so when the opportunity arose to work with him it made so much sense. He was instrumental in helping us refocus not only our sound, but our direction as a band moving forward. 'Red Flag' is the first taste of our efforts together and it most certainly won't be the last <3


Justice
When we first went into the studio with Fletcher, we began by listening to a whole bunch of music together. We touched on so many of our inspirations but kept coming back to our dark-dance overlords - Justice. The way they seamlessly blend acerbic, jarring tonality with sleek, upbeat production on their first album was something we wanted to strive toward moving forward. Gross but the nice kind of gross. The kind of gross you could set your watch to. That's the energy we wanted to harness.


Live Performances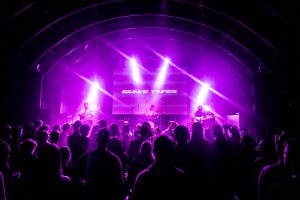 We are a live band. It's what we do. We play a whole bunch of shows and that's how we've managed to build any form of momentum in this industry. In the studio however, this had always managed to present itself as a looming, omnipresent threat… "yeah that sounds, great - but how would we pull it off live?" This question kept us comfortable in the studio. It provided limitations of what we could and could not do. But comfort breeds complacency and we needed to break out of our comfort zone to grow. Fletch helped tease that out of us. He would point to all the music we had showed him as evidence to suggest that we had always been drawn towards a more electronic style of production. So with his guidance, we dived in.


Elektron Model:Samples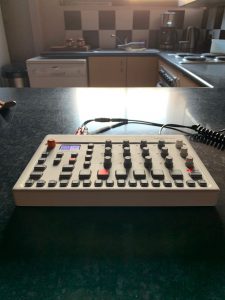 I've always gravitated towards synthetic tones with my guitar playing. My pedalboard is full of effects pedals that manipulate my signal into the sounds I wish I could get out of a synth. I just can't play keyboard. While I've had a few little synths/drum machines in the past, the Elektron Model:Samples is my first decent sampler. It's a much more approachable take on Elektron's fancy high-end units, while retaining most of their defining features. The playability and friendly, vintage-inspired sequencer on this device helped me understand how a lot of the music I had been inspired by was created. Immersing myself in this was a penny drop moment in our road to electronic reinvention.


Empress ZOIA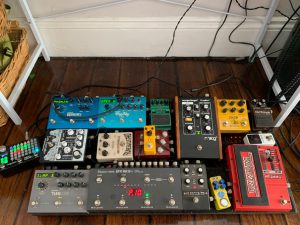 While the sampler helped remove most of the "can we do it live?" guilt from our studio process, this little effects pedal put those fears to rest once and for all. It's literally a modular synthesiser in a box. For anyone who doesn't know what that is, give it a cursory google search. They're those massive walls of synths with 6000 little leads hanging out. Empress somehow managed to cram all of that into this little box & give you the building blocks to create almost any sound your heart desires. Confusing. Scary. Liberating.


Laptop

They say people fear what they do not understand. For me in the studio, this was the laptop. We were so focused on our live set that we were scared of wading too far into the unknown waters of HECTIC PRODUCTION. But with Fletch's guidance, we took the plunge. Instead of limiting ourselves to only recording music that we could comfortably perform live, we're now focused on serving the song. Make the music we want to make and THEN figure out how to perform it. Where there is a will, there is a way.


So Fresh
Another integral moment in our sonic spiritual awakening was the death of the guilty pleasure. This is pleasure only zone. The amount of times So Fresh Hits of Summer 2007 gave us the pep up we needed to finish the last leg of a big drive home on tour is a testament to this.


Fun

A culmination of all the above factors lead to us developing a mantra in the studio. "Are we having fun?" This question guided all of our decisions and lead us to places we had previously thought unreachable with this project. If it sounds good, do it. I can't wait to show y'all how much fun we had xx
Listen to 'Red Flag' above, and keep up to date RAAVE TAPES by following them on their socials below.