Music / Features
Hopetoun is for Hopers -
Philadelphia Grand Jury on the rebirth of Sydney's Hopetoun Hotel
In late 2009, Philadelphia Grand Jury were at the top of their game, fresh off the release of a debut album that cemented themselves as one of Sydney's most exciting bands. Simultaneously, the venue that afforded them a foot in the door at the very beginning - Sydney's Hopetoun Hotel - abruptly closed up shop.

Late last year, almost exactly ten years on, it was announced that the legendary venue was to reopen, aptly timed as the Philly Jays were preparing to reveal details of their forthcoming third album. Following the release of first single 'Nervous Breakdown' last month, a blast of the band's signature garage-soul goodness, frontman Simon 'Berkfinger' Berckelman has told us the story of his favourite pub and the role it's played in his musical life. 
My wife is from Brisbane via Berlin and when we finally made a move back to Sydney in 2017 the first thing I did was drive her past the Hopetoun Hotel in Surry Hills and literally shed a tear looking at its boarded-up windows. She thought I was quite insane and there was no way I could describe to her what this little pub meant and still means to me. Even now I occasionally try and it never works, leaving the memory of "The Hoey" to live on with me and Dave from the band Dappled Cities, that Scottish dude who liked art-house cinema and that guy from Mental As Anything that was always there with a glass of red.

So before the whole COVID-19 thing there was an article online announcing the revamping and reopening of the Hopetoun Hotel and it got me semi-excited. Would it be the same? There would be no music, but that's almost to be expected in a suburb that has changed from a Sydney crime hangout, to arts hub, to a very nice and peaceful place. Still the revival of this place seemed the line up with the revival of a lot of creative energy within our group. It got me thinking about our album Hope Is For Hopers, released ten years ago and how the Hopetoun Hotel became a symbol of music in Sydney for us and the trajectory of our band. Our album came out, Hopetoun closes down, we leave the country, we return to the country, make a new album and the Hopetoun plans to reopen. Seems weird. Ten years is a long time in music-land but it passed for me in a heartbeat.

I guess first I need to give you a brief and possibly incorrect history of the Hopetoun Hotel from my perspective.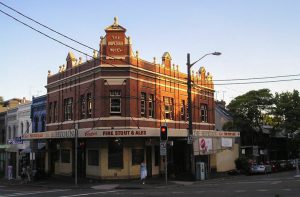 The Hopetoun started its life in 1839 as the Cookatoo Inn and went through a bunch of renovations and name changes before someone did a number on it and settled on naming it after the first Governor General Lord Hopetoun in 1901.

My first knowledge of the Hopetoun was when my Dad's band "Kiss My Poodles Donkey" was featured on a compilation vinyl record named Big Hope Little Town in 1991. I remember being very small and wondering what it all was. I wasn't allowed to go to these places except the occasional sound check and the Hopetoun would soon close its doors for a big chunk of the decade so I didn't have much of a chance to find out. All I know is at that point it had become a small community pub that fostered growing talent in Sydney's then bourgeoning pub rock scene.

Cut to the eve of the new millennium and a family outfit comprising a husband and wife and a brother in law decided to take over the pub and restore it as an indie music institution. The rules were simple; music every night no matter what and the pub gives all of the door money to the bands, taking no cut for themselves except the bar sales. There would be no payment guarantees made to bands and no riders (drinks and food for the artists) unless they think you are really good, in which case drunkenness was guaranteed.

At this time me and my buddy MC Bad Genius (then known simply as Joel) would scour the city in his Kingswood station wagon looking for any kind of music playing. We were fresh out of school, young and excited to learn and experience all that music had to offer. The trouble was Sydney was a musical ghost town. Clubbing and techno was going off but the whole pokies thing had killed most live music spaces. Bands like The Whitlams sang about it and venues like the Sandringham in Newtown struggled with perennial band room renos and trying to keep music viable.

All the bands were from Brisbane or Melbourne and Sydney sucked.

But then after artists like The Strokes revived guitar music for the mainstream, all of a sudden everyone was getting a band together and Sydney was the place to be. You could go out any night of the week and find something to do (something Jim Elliot drummer from The Cruel Sea had told me about Sydney in the 80's when the likes of David Bowie called our city home). Joel and I realised this was something we could do and got practising our garage rock and formed Philadephia Grand Jury. All the while music in the city started building with the likes of Red Riders, Dappled Cities, Sparkadia, Teenagers in Tokyo and Van She all getting bigger and having record label money thrown at them. A night called Purple Sneakers (named after a song by local 90's band You Am I) came up and put local bands next to DJs and pulled 800 punters every Friday night. In retrospect, it was a bit of a sausage-fest but little young me didn't quite yet comprehend that, either.

Of course one of the first steps for a Sydney band was a support slot at The Hoey and we got one of these around 2006. The door person and bar staff were always local musicians working rock jobs there and from a band better than yours, the monitor speakers were full of beer and rarely worked, you literally had to fight your way through the crowd with your equipment to get to and from the stage, it was awesome.
Paul the publican decided he liked us as we sounded a bit like his favourite singer Elvis Costello and soon we were selling the place out. Around this time I was permanently "on the door" and had I guess illegal "pour your own beer from the bar whenever you like" status. The doors would close and a select few indie heroes would continue to drink long in to the night. If I was feeling alone, which as a young man was pretty much all the time, I could always wander down Bourke St and slink in to the Hoey to see what was up and talk some shit.

Of course it wasn't perfect. Paul didn't like it when the venue was actually full, as it was so cramped no one could get to the bar and buy beers. He preferred a half full venue and a band that attracted heavy drinkers. There was a weird dungeon underneath with a second bar that never got used. The entrepreneur in me was always redesigning the space to make more money and make the place more accessible. My suggestions always fell on deaf ears and soon the Hoey was broke, getting noise complaints and failing to meet council regulations. Our band had grown too big for the venue, but as an up-and-coming music producer I was always there checking out new bands, just waiting and hoping for the right ones, with the right attitude and the right songs.

Then one day about ten years ago, just after our debut album Hope Is For Hopers had come out, I got a text saying the venue was suddenly shutting. Everyone was heartbroken and outraged, Jake from the band Bluejuice (a longterm indie-rock bartender there) and I were called by Triple J to comment. I said a bunch of things about how the city sucks, government regulations sucked and I'm sure other things I wasn't really qualified to talk about as a goofball in my 20s who was yet to see the world. Then for months rumours were flying about what really happened to the Hopetoun. Family bust ups perhaps? It will always be a mystery. I even called some kind of law firm to ask what future plans were for the space but never got called back. I figured someone would revive one of my favourite places in the world?

But the boards stayed up over the windows and I was bummed out. The band moved to the UK to tour and I wrote a song about it called 'Save Our Town'. I heard Paul went to Goulbourn and that his wife and brother in law still owned the pub, sitting on it with some kind of long term Sydney-style real estate intentions. Then the band broke up, I moved to Berlin, built a recording studio and spent my time recording bands and learning how to be an adult. My personal creative intentions went on ice.
Eventually Philadelphia Grand Jury's wounds healed and we made a quick second album in Berlin and did a couple of tours. Around about this time I had gotten over my Sydney heartbreak and began to see a new hope here. After brutal Berlin winters and even worse German attitudes, Sydney's sun, surf, good food, coffee and an opportunity to build a new Sydney version of our studio Golden Retriever sounded pretty damn great to me.

Once I got back and in the swing of things I realised Sydney's cultural ice was thawing and new exciting artists were emerging. The faces and the spaces are different but the intention is the same. Philadelphia Grand Jury has been drawing on this new energy to make a brand new record, our first on home soil in ten years and again I am finally feeling like Sydney is the place to be.

New Hope Little Town.
Philadelphia Grand Jury's third album is due out later this year.