Music / Features
Track by Track:
The Buoys - All This Talking Gets Us Nowhere
Sydney punks The Buoys take us through the six tracks from their ferocious new EP All This Talking Gets Us Nowhere, tackling everything from misogyny, toxic workplaces and bad jokes to the tune of blistering guitars and frenzied garage-pop charm.
Even if Australia isn't lacking quality punk music at this moment, The Buoys' second EP All This Talking Gets Us Nowhere encompasses enough infectious energy and burning talent to instantly stand out anyway. Released earlier this month via Spunk Records, it's a tight and raucous collection of relentless, ear-worming garage-punk.

The Buoys consists of Zoe Catterall (vocals, guitar), Tess Wilkin (drums), Courtney Cunningham (bass), and Hilary Geddes (guitar), with the four-piece concerning themselves with the political through the personal: talking often doesn't lead anywhere helpful and so the band choose to unleash their fiery anthems against the toxic behaviours they observe instead. Their songwriting, then, is imminently relatable. The track 'Linda' mocks that ubiquitous haunting figure of anyone's 20's, the horrible boss, Catterall asking sardonically "do you feel better making people's lives a little harder?" Moments earlier, on 'Inside Outside', she angrily states "there's always gonna be someone telling you what you know".

The EP is a blistering listen - this is a band that was recently nominated for Best Live Act at this year's FBi SMAC Awards after all - and its 15 minutes thunder by. 'Wah' sounds like a welcome tribute to excellent Riot Grrrl bands like Bratmobile in its feverish and sudden intensity. The softer sound of 'Already Gone' and 'Slow Down' reminds one favourably of Washington's Chastity Belt, who similarly possesses the ideal ability to dovetail between loud rock and aching melodies. Before 'Wah' whizzes past, Catterall can be heard to shout "I don't want to just be another number"; with passionate and skilful punk like the kind packed into this EP, that fate won't await The Buoys anytime soon.

We caught up with the band as they took us through the meanings and inspirations behind each track which you can read below.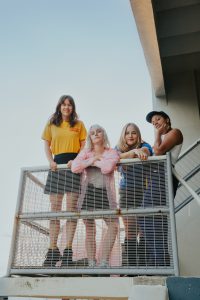 Gold

Zoe: I wrote 'Gold' sitting on a milk crate in an empty house I'd just moved into. I was instantly reminded of the stories my Mum told me about her 20's and her crate seats and tables. I had no homely possessions and I hated my job at the time, and despite lacking these material things, I was the happiest I'd ever been. Human connection goes a long way and 'Gold' tries to convey the warmth it can give you despite everything else turning to shit. This was one of the fastest to record. We'd rinsed it on tour so it came together so quickly in the studio. It's also one of the funnest to play so it's not hard to bring the energy with this one.

Inside Outside

Tess: Sometimes the songs we write take months to come together, but this song was one that came together in minutes. Our bass player at the time, Ros, showed up to rehearsal one arvo feeling pissed off from an exchange with a guy at a guitar servicing shop. When she had asked about getting her bass serviced, the guy said "I didn't know chicks could play guitar". Whether it was intended as a joke or not, it really was just not funny. We have had conversations where people have told us that we just get good gigs because we are all-women and quotas need to be filled. We were so sick of not being taken seriously and instantly spat out 'Inside Outside'.

The film clip for 'Inside Outside' (directed by Clover Ryan) uses a running race between Zoe and our good friend Rowan (from Sydney band 100) as an analogy for gender inequality in the music industry. In the clip, Zoe has obstacles to overcome during the race, whereas Rowan gets a clear, easy run, supported by comrades on the sidelines. Zoe and Rowan tie, but the obstacles that Zoe had to overcome reflect the strength and determination she needed to get there. It's just easier for men. Gender inequality is not a new concept, and the gap is narrowing, but it remains unresolved and it's not for a lack of talented women.


WAH

Zoe: Tess had a drum beat that she really wanted to turn into a song, she played it over and over until I started spitting out words. 'WAH' was polished in different spaces while we were touring with Pist Idiots. The first time we sat down with it was at my house, there were so many ear to ear grins as we knocked off each verse. I then have a memory of sitting at a bus stop in Brunswick, it was sooooo cold and we were tapping the beat on the bus stop bench trying to remember the words. If you've heard it, it's super fast paced, and it was really hard to stay on top of the lyrics. We would've looked like a bunch of crazies. I think we are a bunch of crazies.

The first time we played it was near the end of that tour, we'd organised a side show with the other support band 100 at this tiny venue on the Sunshine Coast. We legit played the song to the other band and no other punters which meant we went absolutely ham. Somehow, we played it perfectly the first go and that there, was the birth of 'WAH'.


Already Gone

Zoe: Hahah well, 'Already Gone'… the girls will kill me for telling this part of the story… but it's working name was 'Wembley' cause the first time we played it (it was such a PHWOAH moment) it was decided that it would best be heard at Wembley stadium, it's a huge song and we had a lot of fun developing it with this grandiose feeling in mind. I think the best thing about 'Already Gone' is it can be heard in so many ways. I wrote it at the start of a relationship and finished the song after that same relationship had ended. Because of that shifting perspective as I was writing, it's one of those songs that can be whatever you need it to be for you at the time.

Linda

Zoe: Lots of people know we've been performing this one for a while. It was super exciting to finally be able to (in Tess' words) "cage the beast". There was something about 'Linda' that made it near impossible to capture that live energy. We actually play this track differently live than on the recording, we really ham it home with a breakdown in the end when we play it live, it's too fun not to. 'Linda' is the personification of everyone's worst nightmare of a boss. I wrote the song when I was breaking my back doing an emotionally challenging job and working ridiculous hours, all of which was made more difficult by a nasty colleague. 'Linda' is for anyone (so literally everyone) who's had a horrible boss, and has had to put up with crap just because they had to pay rent. 'Linda' is the song we spent the most time on, we maybe re-recorded it three times because we just couldn't get it. When we did though…it felt so darn good.

Slow Down

Zoe: This song is a gaslight anthem lol. I had a similar experience in a friendship and in my romantic relationship of not being allowed to have a valid response to something hurtful. It's pretty commonplace as a woman to be told that your anger is hysterical. 'Slow Down' explores just how frustrating and confusing being gaslit is, you can literally forget the crux of an issue because it gets lost in muddy communication. I wrote this song on my mum's deck overlooking the beautiful Australian bush-scape curled up under a blanket.

This song was a rough work in progress the first time we played it, it was at Marrickville Bowlo, I think with Big White. One of our friends pulled us aside afterward and said "what was that song with the words slow down" and we explained it was a new song, yay, to which they just said "yeh needs work" lol. We refined it after that, we usually refined a song by playing it live, and now it's one of the funnest songs to belt out.
All This Talking Gets Us Nowhere
is out now through
Spunk Records
- stream the EP
here
.