Music / Premieres
Video Premiere:
Ochre Trash - Home (Is Where The Couch Is)
Today we have the immense pleasure of premiering the new music video for Ochre Trash's 'Home (Is Where The Couch Is)', a haunting examination of the cycle of change and loss, played out through a lone, tinsel-laden being.
Indie dream-pop artist Ochre Trash, driven by Melbourne-based artist Troy Sheehan, has treated us to this minimalistic but strikingly beautiful music video, which tugs on our own feelings of separations and removal in this time of hardship. Sheehan wrote the song in reference to the process of moving house and coming to terms with the change and loss of the idea of home. The music video creation process was undertaken in collaboration with up-and-coming video maker Caitlin Wong, who's take on the track inspired much of the idea for the music video.

Wong expressed that the video is about "the loss of things that were once familiar and comforting, and in turn the emptiness that losing it creates. The idea of a tinsel figure trickling through his house at night, attempting to pass time doing very normal things albeit they are not familiar nor recognisable to the audience in the video was closely inspired by bringing the world of the lyrics."

A lo-fi electronic beat introduces us to the exterior of a redbrick flat, as a lonesome shimmering being returns from the daily grind to an unmarked package at their front door. The being opens the package in sparsely furnished apartment, dimly lit in blue and purple hues, finding an old television set. The plucked acoustic guitars and melancholic vocals provide the musical bulk of the introduction as the being sets up their new device before sinking into their couch in front of a screen of static. The clip proceeds with a cycle of the being returning to their place of habitation to find a package, a can of food a radio, before finally a box of mysterious light, a deep sense of alienation and loneliness is portrayed as each is interacted with. The clip ends with the being disappearing into the box of light, perhaps finally moving on? Perhaps releasing their need for material attachment? We wish you well shimmering being, and we wish you well Ochre Trash.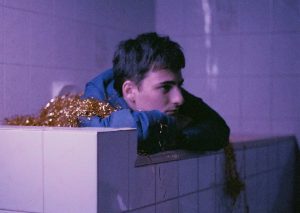 Check out Ochre Trash's eerie but heartwarming music video 'Home (Is Where The Couch Is)' above.