Music / Premieres
Premiere:
Leftfield Luxury - Flogs
Following the success of their self-titled debut released in early 2019, Ballarat odd-punkers Leftfield Luxury have returned today with 'Flogs' - a two-minute grunge-gaze belter aimed squarely at the gasbagging pub goer.
Against the grain of the 'twenty-something' regional flight, Ballarat garage-punk quartet Leftfield Luxury have found impressive success from their hometown origins. After securing a slot at last year's Spilt Milk Festival, the band have quickly found resonance in their home ground advantage - youthful, fast and unapologetic in their delivery. Over a year on from their self-titled debut release, Leftfield Luxury have returned today with 'Flogs' - two-minutes of refined grunge-gaze fuelled with an enmity for aggressive punters. 

Led by pummelling drums and snarky lyricism, 'Flogs' finds Leftfield Luxury somewhere between pop-punk and grunge - a far stray from their garage-punk beginnings, the track trades wistful angst for washed out guitars. Akin to the likes of Miniskirt and The Chats, 'Flogs' takes influence from Australian pub culture. An angered look at the gasbagging bar line, the track reflects a familiar eye-roll towards obnoxious patrons - "it's an ode to the people we hate," says frontman Seth Hancock. "The people who rile up at the droplets of saliva that leave your mouth when you talk. It's about the people with a peanut for a brain who only know how to sink $12 CC's and Cruisers."

Equal parts sardonic and crude, 'Flogs' explores a fierce new sound for Leftfield Luxury - a concise effort that brims with confidence and unabashed charm. Paying homage to the intensity of their past work, 'Flogs' finds welcome space among the groups visceral catalogue. "We wanted to meet somewhere in the middle," says Hancock. "To keep our audience familiar with the sound while introducing them to something heavier and more mature." With this air of refinement, 'Flogs' sees Leftfield Luxury at their creative heights - a charismatic wonder laden with fast wit.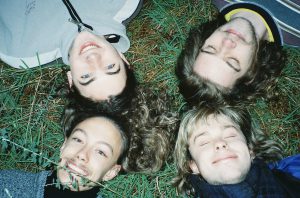 Check out 'Flogs' above, and keep up to date with Leftfield Luxury by following them via their socials below.