Music / Features
Exploring Australia's Complexities -
A Chat with Floodlights
Awash with gritty jangle and a strikingly self-aware brand of Australiana - Floodlights' debut full-length From A View is honest, thought-provoking, and a bloody good listen. We caught up with the Melbourne four-piece for a quick chat about their amazing new record.
It was only a year ago that Floodlights strolled into our ears and hearts with the charming Backyard EP - a raw and heartfelt exploration of Australia's powerful landscape, and the often troublesome and contradictory identity of those who inhabit it. With a stirring introduction from Mirning Elder and Whale Dreamer Uncle Bunna Lawrie, the EP's shambolic garage-rock and modern occa flavours were instantly ear-pricking and heart-wrenching, gaining the band favourable attention at home and overseas. A natural expansion of the sounds and stories of Backyard, the newly released From A View sees the band hone their craft musically and dig deeper into the Australian psyche to create an album that feels instantly classic and strikingly relevant.

Opener 'Water's Edge' grows from intimate beginnings to anthemic proportions whilst gradually introducing us to each invaluable component of the Floodlights sound: Louis Parsons' distinct soaring voice, Ashlee Kehoe's expressive harmonica and vocals, the calculatedly haphazard drumming of Archie Shannon, and Joe Draffen's punchy and melodic bass work. Add in the perfectly complementary guitar playing of Parsons and Kehoe (whose thin intertwining guitars sparkle like jewels found in the dirt) and we have the simple yet captivating combination of instruments on which the album is built.

Floodlights take this trusted sound in numerous directions throughout the record, from energetic rhythms in 'Matter of Time' and 'Thanks for Understanding', to thoughtful ballads such as 'Happiness', and understated pop on 'Walk Away' and 'Glory of Control'. The well-constructed songs rise and fall organically, often stripping back to just one ingredient before the band slowly and surely return to full pelt. Recorded mostly live in a short space of time, the album feels decidedly unrefined and consequently imbued with the natural charm and character of a band who know how to play together, and love doing it.

Throughout the record's eleven songs Parsons' honest heartfelt lyricism commands attention and inspires thought on issues both personal and universally recognisable. Through compelling imagery the songs tell poignant stories which grapple earnestly with modern Australian issues such as addressing casual racism and prejudice, cultural ignorance at home and abroad, acknowledging the bloody past of this land, the abuse of power, and life-defining personal choices. "The ideas behind the lyrics were often prompted through conversations and interactions that took place in different settings, such as on the job site at work, in everyday life and while travelling around the country and overseas. Often these interactions helped generate perspectives that we'd speak about as a band, and I'd write lyrics about," says Parsons.

A beautiful and impressive debut album, From A View is an important reminder of the ability of quality Aussie rock 'n' roll to question the culture it was brought up in. To dig in even deeper, we had a chat with Floodlights to talk through the record.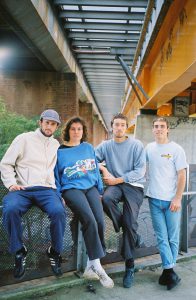 TJ: Firstly, congrats on the release of such an incredible album! How does it feel to finally share it with the world?

Joe: Thanks! It feels great. We recorded it late last year so it's good to finally bring it to the public. We're all really proud of it as it's something that we put a lot of time, effort and thought into.

The album was recorded mostly live in just two days, what drew you to such a fast-paced process and the minimal use of overdubs?

Archie: The 'live' aspect of the recording process was quite simply to capture intricate tempo fluctuations and broader performative aspects of our music which hopefully depicts the energy of a live performance of ours. That's not to say we didn't overdub at all, we just tended to favour minor imperfections over overdubbing to show our actual sound. For me, two days wasn't necessarily fast paced, but I know that the others were slightly intimidated by the two day timeline. I think playing simultaneously as a band was obviously natural to us, and it certainly erased some of the nerves that were over-hanging about being in a large studio which further suited the timeline.

Your last EP was self-recorded and mixed (with great results), but this time you brought sound engineer Nao Anzai into the process. What encouraged this decision – and was there any apprehension toward outsourcing these responsibilities?

Joe: Archie recorded us last time. He did an amazing job recording and mixing the EP and we were really happy with how it turned out. We all thought that the album would be more suited to a proper studio recording, and we'd let Archie just focus on playing the drums and get someone else to record us. Archie had recorded with Nao before in other projects of his and knew how he operates would suit us as a band, and we also loved the sound Nao had produced for bands like Cash Savage and The Last Drinks. When Nao said he was keen, we locked in some dates with him at Head Gap Studios in Preston, one of two studios in Melbourne with the 24 tape machine that he (and us) were eager to use.

Can you run us through the Floodlights songwriting process?

Joe: Louis or Ash often bring an idea to the table, whether it's a guitar riff, chord progression, vocal melody, lyrical concept or a bit of a package. We then jam it all together and add our thoughts and ideas. It's a super collaborative process. Archie is a talented muso, with a creative mind, so he adds a lot and has great input to song structures. Often the lyrics will be added on last, however, that's not always the case, as Louis has brought quite a few instrumental ideas to the table that he's already written lyrics for. Especially over the lockdown periods - he's been keeping at it and coming up with a lot of new material that we're really excited to workshop when we can.


Much like the Backyard EP, the album explores some of the troubling and often dark sides of the modern Australian psyche, but also seems underpinned with a sense of hope for the future. Did you begin this album with something to say, or did the songs naturally fall into place around a few themes?

Louis: Although we didn't set out with a specific message in mind, we definitely wanted to further explore Australia's cultural complexities, which certainly hold a shameful side. We found that we often wrote lyrics in response to the cultural landscape around us, both on a personal level and political one. I suppose there is a sense of hope as we see values and attitudes beginning to change but that said, there is still a long way to go. So I guess we want to write, from our perspective, about things going on around us that we care for and in that sense our message sort of fell into place.

Following on from that - do you see a role for yourselves and other Australian acts in honestly examining and questioning Australia's cultural identity? Should acts leaning into Australiana as a sound have some responsibility in acknowledging these complex cultural issues?

Ashlee: I think there is a feeling of responsibility as a band that writes about the society around us to examine the complexities and to question aspects of the 'Australian' cultural identity. Songs like 'Don't Pick That Scratch' take a look at the amnesia of certain aspects of Australian history, reflecting upon cycles of fear, feelings of entitlement and the racist beliefs that can sit hidden in the underbelly of both individuals and a national culture as a whole. We've always aimed to write songs that have meaning to us, so it came naturally to explore these prevailing issues of modern Australia.

Finally, what's next for Floodlights?

We're writing more music and are really hanging out for restrictions to ease so that we can see each other and play music together again. Hopefully we'll be able to launch the new album by the end of the year with a show, but obviously that might not be possible, so we'll keep writing new material until then.