Music / Premieres
Premiere:
The Rollercanes - Cops on Bikes
Melbourne rock 'n' roll crew The Rollercanes are making raucous, self-deprecating rock cool again with their new single 'Cops on Bikes', a tangle of garage-pop noise that's energetic bounce defies its stuck-in-a-rut lyrical themes.
The four-piece boast the gravitas of The Rolling Stones and the introspectiveness of Car Seat Headrest, while bringing a unique charm that makes them so memorable in this mire of modern music. Engineered by Rohan Sforcina, mixed by lead singer Daniel Wright and mastered by Adam Dempsey, the track is a warm and fuzzy return that serves as a perfect follow up to March's 'Life's Good'. With its infectiously bopping rhythm and stellar lyrics, 'Cops on Bikes' tells an all-too-familiar story of trying your best but somehow making things so much worse in the process.

Instantly propulsive, 'Cops On Bikes' opens into a flurry of rich garage-rock chords while bassist Ryan Laughlin and drummer Josh Tucker lay down the foundations with a tight, yet restless groove. "Why am I here? It's a joke" professes Wright in the opening line, the frustration and resentment in his voice wrestling with the bouncing instrumentation - yet the contradiction makes him sound all the more redundant, something like a VCR once DVDs were revealed as the next big thing. As Wright's vocals scratch and crack, he continues "I'm just a cop on a bike, riding down Swan Street feeling petty/when I get home at night, I'll know that I didn't achieve anything today", and despite its sunny charm, there's a stark undercurrent of bitterness bubbling within.

As the track progresses, we're treated to some tasty lead guitar work courtesy of Bek Nafiz, before the bright jangles turn fiery and manic as Wright's tale takes him to breaking point. A track that is as enjoyable to listen to as it is revealing, as 'Cops on Bikes' rounds out there's a resounding sense that the song has come from a place of real vulnerability - one that forces us to reflect on our feelings of incompetence or uselessness while it gets stuck in our heads.

To celebrate the new release, we were lucky enough to check in with the band about cops, bikes, rollers and all things canes - here's what they had to say.
TJ: We've been lucky to be hearing new music from The Rollercanes of late - how's life been treating you at the moment, especially as you're releasing some your best music without being able to have it heard in your natural element onstage?

TR: It has been a real mixed bag of emotions over the last few months. Personally, I've benefitted a lot from having everything slow down to the point where I've been able to focus solely on music without regular life getting in the way and also change the way I create. It's incredibly frustrating not being able to play live and be with the band in the same room, I think we've only all been together once since the end of March. We still talk and plan over the phone and messenger but nothing beats being in the same room doing your thing together. After we had to cancel our launch, we made a decision to continue with plans to release more music. That was something that we had to do for us, regardless of whether we'd have to postpone or cancel releases, I knew that I wouldn't be able to cope if we weren't working towards something.

You can really hear that sense of frustration and angst on 'Cops on Bikes', would you be able to tell us a little what it's about?

'Cops on Bikes' started out as a stupid little chorus I wrote after seeing some cops on bicycles pulling cars over in peak hour traffic on Swan Street in Richmond on my way to work. They were causing more disruptions and hazards in traffic that was barely moving to begin with, it seemed so pointless, but I liked it as a song title. As I got into working on the song it started to become about how pointless I felt as a musician and writer going about my days and spending money on building a career. I think it's about accepting that at the end of the day that this is what you signed up for and you just have to commit to it.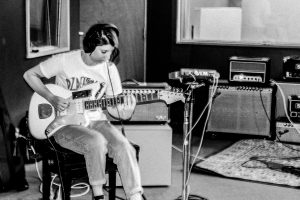 Why are the chords so tasty? The production of 'Cops on Bikes' is one of my favourites so far, can you tell us a bit about it?

TR: I'm happy to have this described as tasty. We recorded at Head Gap Studios in Preston with our friend Rohan Sforcina. Rohan is so great at pulling sounds, especially with the drums he just knew exactly the vibe we were going for which made the session pretty carefree. Josh played a triangle on this one, which is something I never thought I'd see but I'm really glad it happened. The triangle cops a lot of shit as an instrument, but I think it's been completely under-utilised throughout history. The acoustic guitar does a lot of the heavy lifting on this track adding to the crispiness, we've never used an acoustic before as a main instrument on our songs - we've really only overdubbed them for an effect. I think it makes a difference to the overall sound when everyone is having fun in the studio.

Did you have any artists in mind when you were in writing and production stages? Any influences pushing you along?

TR: I'm always thinking "what would Wilco do?" (should I get that tattooed?) during production and finishing a song. I'm a bit of a Jeff Tweedy fanboi so that always factors in when I know the song needs something else, but I'm not sure of what. Car Seat Headrest is another big one production wise, for similar reasons to Wilco, there's always so much creativity in how they fill out a song and I find a lot of inspiration in that. It helps me to step back and think outside of the box.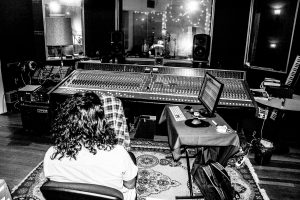 You're donating all the proceeds from this release to Change the Record - for those who don't know, what's this all about?
TR: Change the Record is Australia's only Aboriginal-led coalition dedicated to ending the incarceration of, and family violence against, Aboriginal and Torres Strait Islander People. They are a great organisation with solutions for building stronger and safer communities.
We want to highlight the important work of the organisation and use our music as a way of contributing to their resources and helping their solutions become a reality. I strongly encourage anyone reading to head to their website to learn more
Change The Record
.
You released 'Life's Good' a few months ago and now 'Cops on Bikes', what can we expect from the ol' Rollercanes?
TR: It's almost unheard of for us, but we will be releasing a third single very soon and maybe some more stuff in the tail end of the year. Hopefully we'll be able to move a bit more freely in Melbourne soon so that we can actually see each other and continue on with some other plans that I can't talk about right now, because they may not actually happen and I'll look like a liar.
Thank you for the interview and for premiering our song. I also wanted to say thank you to everyone who has been engaging with us over the last few months and making us feel loved and missed. We hope you like this song and look forward to the days where we can play music for you in person again!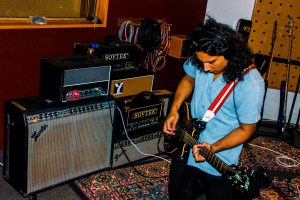 'Cops on Bikes' is available to purchase today via Bandcamp, with all profits being donated to
Change The Record
.