Music / Features
They Made Me Do It -
Talking Influences with Angeles
Following on from his stunning debut single 'Crush', Sydney bedroom-pop mastermind Angeles has just released 'In The Garden' - a simmering alt-synth-rock slowburner that'll wash over you like those first few days of September sun.
Emerging from the feelings that manifest themselves at the beginning of a new romance, 'In The Garden' is a hazy, completely engulfing love song designed to bury itself deep within your emotional core. While maintaining plenty of the dark and brooding fuzz-laced goodness that flowed through debut single 'Crush', sophomore release 'In The Garden' demonstrates a versatility and depth to Angeles that has us all kinds of intrigued as to what may come next.

On the emotional inspiration behind 'In The Garden', Pete Sotiropoulos, the brain behind Angeles, explains "the song is about that moment when you first discover this hidden place someone builds inside of themselves, a boundless garden they keep safe behind wire and broken glass, the feeling of meeting someone new and watching them in their garden, hoping one day to be let in."

Having just announced their signing to Sunset Pig Records, 'In The Garden' makes us think we'd better get comfortable with Angeles, because it's likely this is the beginning of a trip that we can expect to be on for a little while longer yet.

Now as 'In The Garden' hits one week old, we had Pete walk us through what made it all happen.


PJ Harvey - 'Rid Of Me'
This was the first PJ Harvey song I heard. Man that chorus!! Ooft. This was the song that started the love affair.


Leda and the Swan, by W.B. Yeats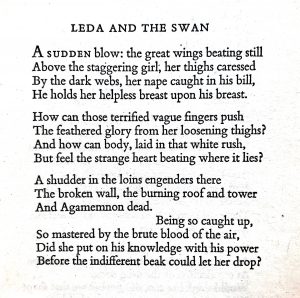 I've enjoyed this poem for a long time and even more recently after I started studying and learnt this poem is actually a sonnet which is constructed within pretty tight constraints. I really like that kind of restriction as it pushes the language in a particular way and constraint/limitation is something I like to think of when writing music and lyrics.


Scott Walker - 'It's Raining Today'
The opening lines blow me away every time - the girl, the scene, you can see the smoke and feel the train leaving and then the instrumentation is just chilling.


Joy Division - 'Atrocity Exhibition'
I love the drum beat, it's a rad fill that simultaneously throws off and carries the song. Along with Ian Curtis' lyrics and delivery, everything in this is dark and inviting but paints this harrowing future.


Leonard Cohen - 'Famous Blue Raincoat'
It was a toss up between this and 'On The Beach' by Neil Young, both classic tunes and favourites of mine but I just love how sassy Leonard Cohen is in this song. It's such a big fuck you and done in such an elegant way that only he could pull off and still remain in a caring point of view, and this line at the end, "yes, and thanks, for the trouble you took from her eyes, I thought it was there for good so I never tried" just gets me every time.


Sparklehorse
It's hard to pick one of his songs as they all exist in such different worlds. Maybe 'Happy Man (Memphis version)' or 'Cow'. There's something strangely nostalgic to me about Sparklehorse, even though he's an artist I've discovered pretty recently, his music hits me like an old smell, it's comforting in a way but then it veers off down dark streets. He also lived in a big old country house with his partner Tereza where he recorded a lot of his music, and I discovered his music just when I, myself, had moved to the mountains with my partner Tereza to spend most of my time recording music. That strange parallel just kinda clicked haha.


The Chills - 'Pink Frost'
Just a great song.
'In The Garden' is out now through
Sunset Pig Records
- follow Angeles in all the usual places to keep an eye on what's next.