Music / Premieres
Premiere:
Las Mar - I No Say
The fourth taste of Las Mar's forthcoming album Don't Read Everything You Believe, 'I Say No' is an all-encompassing journey through the idiosyncratic musician's vibrant sonic world - a thrilling kaleidoscope of psychedelia, exotica and art-pop that makes for a completely transportive listen.
Blending bizarro psychedelia with spirited funk vibrations and an eye for delightfully warped hooks, Las Mar's fourth offering from his upcoming sophomore album finds drummer/producer/mastermind Nick Martyn putting the best of his wild tendencies on display.

Instantly disorientating, 'I No Say' quickly drags us into a swirl of mish-mashed rhythms, the rattling acoustic guitars continually overlapping and contorting themselves until we're lost deep within the soundscape (you'll have to wait until the unedited version drops tomorrow to fully take the deep dive though). That's until the track suddenly bursts open with a pulsating groove, and Nick's voice emerges to urgently dart to the front. Precisely layered yet just as gritty, his vocals masterfully anchor the track as the exuberant rhythms continue to circle around, becoming all the more compelling with charming tin whistle squeaks and added swarms of radiant percussion.

Describing the song, Nick refers to it as a "funk oddity of epic proportions", and it's easy to understand why. Never fully settling in one place, the track plays like it's constantly expanding - initially with swashes of guitar that dance alongside the fluid vocals, before the tangling rhythms eventually begin to wrestle with each other and pile on, sending the track out in a blur of sound and colour that's as relentless as it is mesmerising.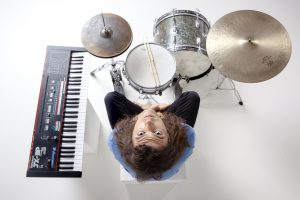 Las Mar's forthcoming album Don't Read Everything You Believe is out on October 9th.