Music / Premieres
Premiere:
Family Jordan - Sally
Out now through Holiday Maker Records, 'Sally' is our second taste of Family Jordan's sun-drenched new album Big Grass, that has the band continuing their pursuit of authentic folk and Americana whilst maintaining plenty of local charm and humour.
Following on from lead single and title track of their rapidly approaching fourth album Big Grass, Melbourne alt-country quartet (formally septet) Family Jordan have just dropped 'Sally', a glorious serving of breezy country-rock that is about to make your spring weekend a whole heap sweeter.

From the first few seconds of cruisey, road-trip drumming and shimmering pedal steel, through to the twangy-as-hell dual guitar solo that hits right at the track's peak, 'Sally' serves as a huge shot of serotonin that'll effortlessly transport you somewhere sunny for its four minute runtime. Full with cunning and charismatic songwriting quirks that seem purposely made to get us in a good mood - take the sea of vocals coming from Jordan Rochfort, Kellie Murphy and Mylee Grace or the goofy lyricism for example - it's fitting that this track is the only Family Jordan number that was collaboratively written by the band at their fullest form, led at the helm by ex-member Aidan Moore, who'll you recognise as one half of the front of Confidence Man now. Just like the song itself, bandleader Jordan explains Aidan's songwriting contributions in the most direct way possible - "ridiculous, funny, charming and simple."

From beginning to end, 'Sally' is a joyous explosion of Aus-tinged Americana, delivered at the best time of year for twangy guitars and dual vocals (not that there's ever that bad a time for that sort of thing), and when Big Grass does drop later this year, you can bet I'll be road-tripping the hell out of it.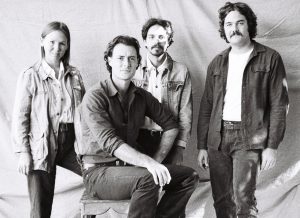 You can keep up to date with Family Jordan as they gear up to release
Big Grass
by subscribing to their regular 'Wind On The Grass' newsletter
here
. In the meantime, take a trip away with 'Sally' above.