Regulars / Homebodies
Homebodies -
Staying In with Hydra Fashion Week
As our days in lockdown keep ticking by, we've been taking a moment to check in on some favourite locals to find out what they're doing with their time in isolation.

So far, we haven't really used this segment to feature musicians, but Hydra Fashion Week's latest single 'Sick (day #132)' sums up lockdown life so aptly that it seemed too fitting not to have the group's leader, Charlie Teitelbaum, on for a round of Homebodies.
A change of pace from the project's usual no-wave cyber-punk madness, 'Sick (day #132)' is stripped back and straight to the point. Building around Charlie's forthright, weary vocals over the constant chug of a raw acoustic guitar, the track plays as a breakdown of their experiences and frustrations in isolation, the crunchy bedroom production making the piece feel all the more agitated.

Although Hydra Fashion Week's plans to release their debut album this year have been put on hold, 'Sick (day #132)' is a telling example of Charlie and the group's ability to adapt in a time as trying as this, and a striking documentation of the turbulence of lockdown. Here's what else Charlie has been up to at the moment.


What are you reading?
I'm a quarter way through five books I never intend to finish such as 'Trick Mirror' by Jia Tolentino, 'Seven Plays' by Sam Shepard and 'The End of Policing' by Alex Vitale.


What are you watching?
Just watched a grainy rip of this documentary Sufi Soul: The Mystic Music Of Islam on Youtube, which is about musical subcultures of Islam, ecstatic devotional music really hitting the spot. I really recommend. Also Seinfeld.


What are you listening to?
Joni Mitchell's Hejira album (perfect for walking around deserted suburbs), 'Sup Mate' by Young Thug & Future (perfect for feeling powerful in your own bedroom office prison), Angel Olsen's 'Whole New Mess' (perfect for staring out a window deeply), or Elvis Presley's Live At Madison Square Garden version of 'Suspicious Minds (Caught in a Trap)' (for intensifying that lockdown psychodrama). Why not blast this in your kitchen and shake your leg aggressively like Elvis, he just can't stop getting faster and faster every minute of the song.


What's keeping you busy?
Well, I just put out 
this song
…
I also started this silly little radio show on the online station 
Pretend Radio
, where I create soundtracks for "imagined realities"; alt-universe versions of movies, stories and ideas that don't quite exist but could almost could. It's called
Speculative Soundtracks
.
Listen to Episode 1 here
Anything you're doing differently?
Been learning to blow my ancient family ram's horn (shofar) traditionally used to usher in the Jewish new year.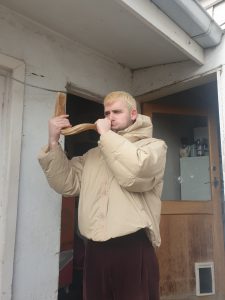 What's the worst isolation idea you've had so far?
Shrek tramp stamp.
What's something keeping you inspired?
Shrek tramp stamp.
Best ways to support the community at the moment?
Send a meme to a friend you haven't talked to in a while, buy some local music on Bandcamp, 
Pay The Rent
, and
donate to stop black deaths in custody
.
Listen to 'Sick (day #132)' above, and keep up to date with Hydra Fashion Week by following them below.