Music / Premieres
Premiere:
Girlatones - Short & Sweet
Today we have the pleasure of sharing a first listen to the new EP Short & Sweet from Girlatones - a brief and breezy collection of DIY pop that leans into Girlatones' charming revivalist sound, with an added layer of dark sincerity blended in amidst the playful atmospheres.
Despite coming just six months after the release of Girlatones second album Horn If You're Honky, on Short & Sweet the Melbourne four-piece offer up a slight change of pace without forgoing their usual offbeat charisma. Opening with a singular cymbal crash followed by a rolling snare drum, we're quickly prepared for the buoyant, almost carnival-esque, nature of a regular Girlatones release - however, the opening line "remember the good times, cause they can't keep up with us" forecasts a more pensive tone, paving the way for themes of existential exploration and the fate of the natural world.

Immediately, Jesse Williams' trademark piano/keyboard performance is apparent, and EP opener 'Remember The Future' reveals a clear decision to bring Williams' unmistakable sound to the forefront of the sonic landscape, providing an overall fuller arrangement. Accompanied by Leah Senior's bright harmony vocals which perfectly complement Williams' dry delivery, and backed by a bubbling rhythm section, the listen feels as warm and inviting as the cosy home studio it was recorded in. Right across Short & Sweet, Girlatones once again showcase their incredible ability to nod to the pop-smarts of the 60's gems that they're clearly inspired by, while maintaining an undeniably distinct voice that feels both contemporary and relevant.

Speaking about the process of creating the EP, Williams explains; "once I finished the mixes I felt keen to release it and cassette seemed like the right format. They could be made in Melbourne and the turnaround was only one week or so. The pandemic took some of the pressure away from releasing music and it feels good to be able to put something out as soon it's finished, rather than waiting for 'the right time'."

Yet the concise release seems to have arrived at exactly the right time, as all of the four tracks touch on the perplexities that are being universally experienced during this global pandemic - whether that's grapplings with existentialism or a pending climate disaster, or a reminder to make an effort with the people around us. And even when moments like 'Doing The Right Thing' do harness the band's signature tongue-in-cheek character, it's inspiring to hear a release that is able to serve as a call-to-action, while providing a sense of consolation and tenderness in a time when we need it most.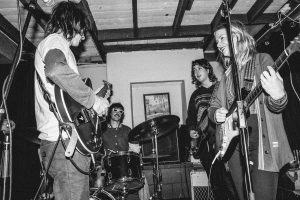 Short & Sweet
is out officially this Friday - keep your eyes on
girlatones.bandcamp.com
to grab yourself a limited cassette when they become available.